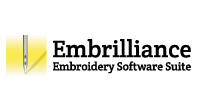 All prices are in Australian Dollars
New!
Pay in 4
4 payments of $49.75
4 payments of $49.75
Own it now, pay later
This software is available as a download only. When purchased, you will be emailed your serial number and more information to activate the module. Please note, you will receive your email within our business hours.
Embrilliance Essentials is the core platform of the Embrilliance Software Suite that works brilliantly on Mac OSX 10.5 and later, and PC including Windows 7, Windows 8 and Windows 10 32/64 bit operating systems.
Start with Essentials and then grow your software to suit your needs with feature packed add-ons like Alpha Tricks/Font Mapper, Enthusiast Editing and Density Repair Kit. You may even prefer to forget the add-ons and jump straight to the entire suite with Embrilliance Essentials Advanced.
It is highly recommended that every embroiderer has access to basic tools to view, manage and customize their embroidery designs. Working with the computer of your choice whether it's a Mac or PC with Windows 10, your embroidery software should be easy to learn, fun and extremely useful. Embrilliance Essentials basically speaks for itself through it's name. It includes all the essential tools that an embroiderer needs to do basic editing of their designs!
So what are the 'essential tools' included?
Merge embroidery designs in almost any format, even while in .ZIP files
Colourize embroidery designs and convert between thread brands
Add lettering to your embroidery designs in Multi-Line, Circle and Monogram modes (even spiral text or make really large embroidered letters)
Resize embroidery designs with stitch recalculation
Convert lettering objects to stitches for inserting mid-letter colour changes and functions
Modify lettering and create monograms with built-in placement templates and styles
Save ANY design into your embroidery machine's format (Saves to .CSD, .DST, .DSZ, .EXP, .EXP+, .HUS, .JEF, .PCS, .PCM, .PES, .SEW, .SHV, .TAP, .VIP, .VP3, .XXX)
Save appliques for cutting machines such as the Brother ScanNCut
Plus, it includes 14 scalable, object based fonts
Automatically split embroidery designs for many common multi-position hoops
Save 'working' embroidery files so that you can edit and replace text later
Overlap embroidery designs and have significant hidden stitches removed
Set 'jump' stitches for automated trimming, hand trimming, and connecting run stitches
Run a simulator to show how your designs will stitch out before you import them into your machine
Import and type text using popular .BX font design collection files
Group and ungroup embroidery objects and imported designs
Change or remove individual colours in an embroidery design
Sort color stops intelligently to group elements in a color together, accounting for proper overlapping
Fit designs to your hoop with stitch recalculation
Add basting stitches to embroidery designs
Manage your embroidery thread collection, including marking ones you own, including quick and easy import from CSV spreadsheet files
Wirelessly send designs to Brother and Baby Lock machines
Directly access your imported fonts and libraries for easy transfer between computers
RESIZING YOUR DESIGNS
With Essentials, you can resize with stitch recalculation! Resize embroidery designs down to 50% and up to 250% of their original size.
COLOURIZE YOUR EMBROIDERY DESIGNS
Convert an entire design to your favourite thread brand in just a couple of clicks! Change colours in a design one by one, or if you have a DST file without colours and want to see what it looks like with colour, you can do that too! You can even create your own custom palette manually or by importing a formatted CSV file.
APPLIQUE
In Essentials, you can use an existing applique design and selection position and material colours without allowing the removal of hidden top stitches in overlapping appliques. even while leaving the position and material runs unmodified. Plus, using Embrilliance's patent-pending technology, you can also use the position colour to create a cutting file. Brother ScanNCut and other cutters can use the files Essentials creates.
File formats
Embrilliance Essentials opens and saves to the following file formats:
DST/CSD/DSZ EXP+/EXP/HUS/JEF/PCM/PCS/PES/SEW/SHV/TAP/VP3/VIP/XXX
The program can open .ART files, but will not save in the .ART file format.
Applique files can be saved as .SVG, .PLT, .FCM (Brother ScanNCut) and .studio (Silhouette).
It also includes special features to enable Mac users to write USB devices and floppy disks for use with embroidery machines, including Designer 1.
SKU: BL-EMB
Embrilliance Essential

By: Narelle on 2 April 2022

Not had a chance to get the benefit of it yey
(5)
Embrilliance Software

By: Charlotte on 1 March 2022

This product has enhanced my embroidery skills to another level, again thank you Echidna for information on products I didn't know about that are so useful.
(5)
Purchase of Embrilliance Essential.

By: Paula on 29 September 2021

I have received the Embrilliance Essential program and am finding my way around it with the help of a friend who also has purchased it. I am enjoying playing around with it and building designs by merging designs. I still have a way to go to learn it all. Thank you.
(5)