Embrilliance Fonts 1 (Add On To Embrilliance Essentials Software)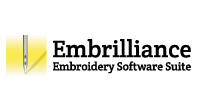 All prices are in Australian Dollars
New!
Pay in 4
4 payments of $29.75
4 payments of $29.75
Own it now, pay later
This software is available as a download only. When purchased, you will be emailed your serial number and more information to activate the module. Please note, you will receive your email within our business hours.
NOTE: Embrilliance Fonts 1 features 15 fabulous fonts that install straight into your Embrilliance Essentials software program. You must have either Embrilliance Essentails or Essentials Advanced to use these fonts.
How to install your fonts:
Once you have completed your purchase save the EmbrillianceFonts1Setup.zip file to your computer
The file is located in your account folder on our webpage, simply click on the accounts tab across the top of the page, then under "My Orders" click on "Downloads"
Locate the file and save it to your computer (make sure you save it someplace where you will be able to find it)
Unzip the file and double click the unzipped file (EmbrillianceFonts1Setup.zip), follow the prompts to install the software. You will then be directed to insert your fonts 1 serial number. When this arrives via email simply copy and paste it directly into the serial number window and click OK to activate your fonts
Your fonts have now been installed and are ready to use
SKU: EL-EFN01
Embrilliance Fonts 1

By: Lynne on 24 September 2020

Had some trouble installing, but with the excellent after sale service from Echidna Sewing, we were able to solve the problem.
(5)