Embrilliance Romance Collection
Add On To Embrilliance Software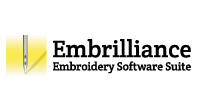 All prices are in Australian Dollars
New!
Pay in 4
4 payments of $24.99
4 payments of $24.99
Own it now, pay later
This software is available as a download only. When purchased, you will be emailed your serial number and more information to activate the module. Please note, you will receive your email within our business hours.
Add this collection of beautiful font designs to your Embrilliance library! This collection contains 8 native, object-based and scalable fonts. This includes not only classic satin-stitch fonts and fancy decorated fonts but also a finely crafted bean-stitch script font and a modern chain-stitch script font. You can create new, unique textures, as well as over 40 different patterns, frames, and corners that are ideal for any romantic occasion.
With a stunning variety of designs including floral swirls and roses, versatile decorative frames, styled hearts, splashes, corners, ribbons and more, you have a library of options to choose from. Personalise your projects or just add a touch of beautiful embroidery to create something extra special.
This collection includes the following fonts:
Romance Bean Script (3-Pass)
Romance Bean Script (5-Pass)
Romance Calligraphy
Romance Chain
Romance Cloud
Romance Dreamy
Romance Roses
Romance Swirl (2 Color)
How to install your fonts/designs:
Once you have completed your purchase save the zip file to your computer

The file is located in your account folder on our webpage, simply click on the accounts tab across the top of the page, then under "My Orders" click on "Downloads"

Locate the file and save it to your computer (make sure you save it someplace where you will be able to find it)
Unzip the file and double click the unzipped file, follow the prompts to install the software. You will then be directed to insert your fonts 1 serial number. When this arrives via email simply copy and paste it directly into the serial number window and click OK to activate your fonts
Your fonts have now been installed and are ready to use
SKU: BL-RC
Romance Collection

By: Donna on 15 August 2021

Thanks to Jackie who helped me finish downloading this collection on my computer. Great Service as you always receive from Echidna.
(5)