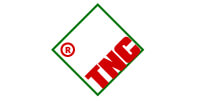 TNC
Triumph Needle Corporation or TNC for short is a world class manufacturer of the highest quality sewing machine needles available. Having produced needles for the complex and uncompromising manufacturing sector since 1988, TNC now leads the way with an exclusive range of household sewing machine needles.
TNC needles are available in the following styles: Embroidery, Universal, BallPoint/Jersey, Stretch, Quilting, Microtex, Jeans, Leather and Overlocking. All TNC household needles feature Hard Chrome Plating and Reinforced Blade Technology.
Choosing competitively priced TNC needles means longer needle life, better performance and beautiful results.