Industrial Machines
Echidna is proud to be an Australian agent for quality industrial VMA Sewing Machines. We offer a fantastic selection designed for those looking for something more than a domestic machine. At prices more affordable than you'd think, these machines are manufactured to provide efficiency and produce quality results.
Only available for local delivery or pick up
Our Industrial Machines are available for local pick up at our Capalaba location, or delivery within South East Queensland. If you are interested in any of these machines or wish to find out more, please register your interest by completing our Expressions of Interest form. If you are outside of this area, please get in touch with us and we will do our best to find a possible arrangement.
Alternatively, you can contact us via phone on 1800 000 360 or email us at sales@echidnasewing.com.au.

Bench & Table Included
All VMA Sewing Machines are pre-built and constructed onto a bench and table, ready for you to start stitching.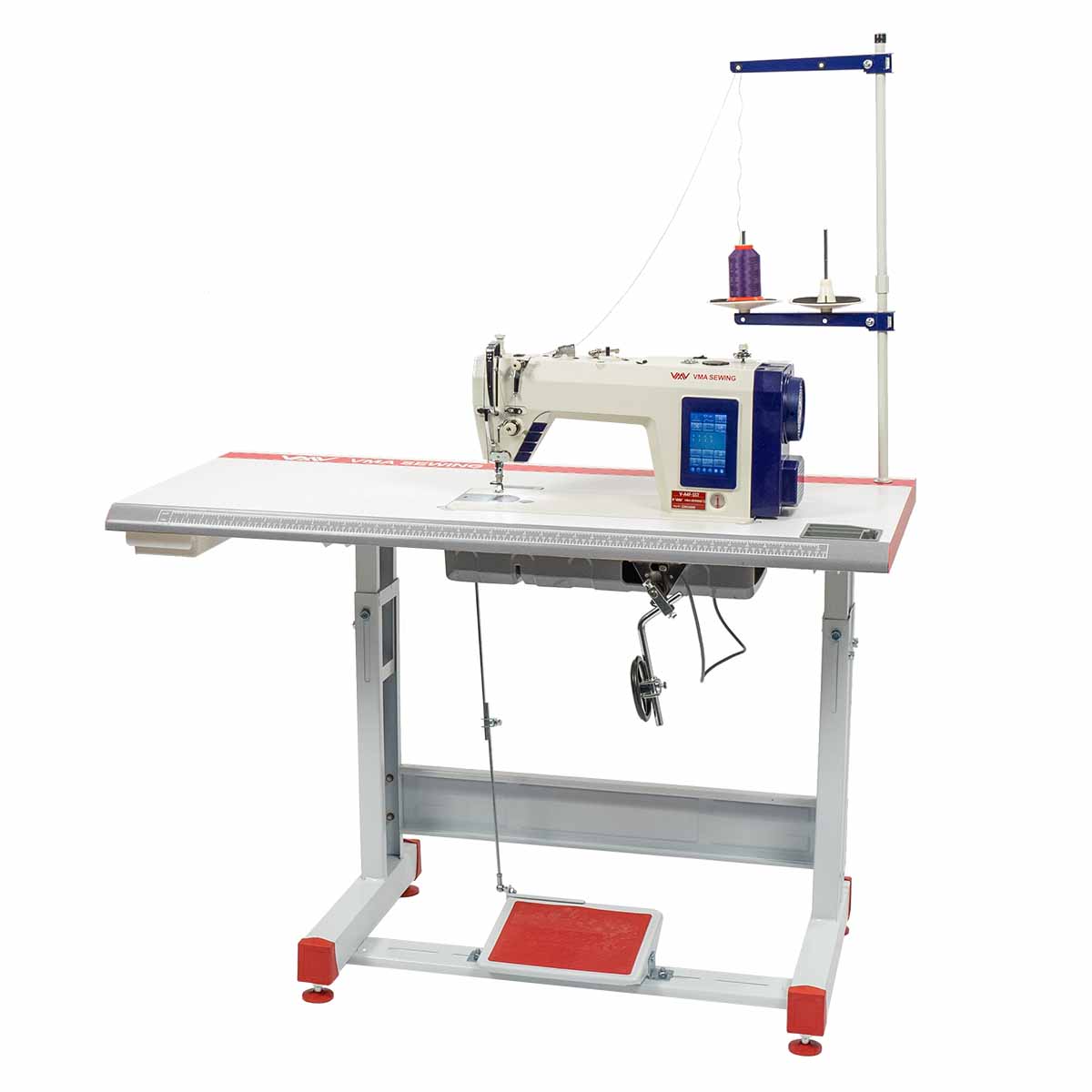 Download VMA Industrial Machine Range (PDF)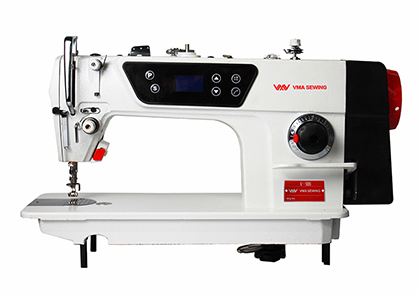 V-M8
High-Speed Straight Stitch Sewing Machine
Powerful direct drive motor
Standard industrial rotary hook
Standard needle system DBx1/16x231
Selectable up/down needle stop position
5mm maximum stitch length
Automatic oiling system with standard open oil pan
LCD screen with programmable maximum speed control setting
Easy threading
Built-in bobbin winder
Complete with bench and table
$999
V-A1
High-Speed Straight Stitch Sewing Machine with thread trimming
Powerful direct drive motor
Built-in automatic thread trimming
Standard industrial rotary hook
Standard needle system DBx1/16x231
Selectable up/down needle stop position
5mm maximum stitch length
Automatic oiling system with standard open oil pan
LCD screen with programmable maximum speed control setting
Easy threading
Built-in bobbin winder
Complete with bench and table
$1,299
V-8000S
Electronic High-Speed Straight Stitch Sewing Machine with thread trimming
Powerful direct drive motor
Large LCD screen with multiple advanced programming options
Automatic multi-programable back-tack
Standard industrial rotary hook
Fast built-in automatic thread trimming
Automatic oiling system with standard open oil pan
Selectable up/down needle stop position
Easy threading with advanced thread clamp system
Standard needle system DBx1/16x231
Built-in bobbin winder
Complete with bench and table
$1,799
V-A4F-SST
Electronic High-Speed Straight Stitch Sewing Machine with thread trimming
Powerful direct drive motor
Colour LCD touch screen with multiple advanced programming options
Fast built-in automatic thread trimming
Automatic oiling system with closed oil pan
Automatic multi-programable back-tack
Built-in bobbin winder
Easy threading with advanced thread clamp system
5mm maximum stitch length
Standard needle system DBx1/16x231
Selectable up/down needle stop position
Complete with bench and table
$2,199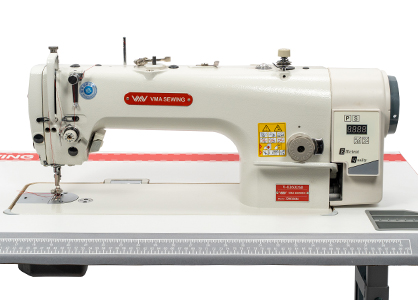 V-6160DSB
Heavy Duty Needle Feed Straight Stitch Sewing Machine
20% wider workspace compared to standard straight stitch models
Oversized industrial rotary hook system - larger bobbin
Advanced Needle Feed - prevents fabric creep
Selectable up/down needle stop position
Automatic oiling system with standard open oil pan
Powerful direct drive motor
8mm maximum stitch length
Easy threading with built-in bobbin winder
Heavy duty needle system DPx5/134R
Complete with bench and table
$1,699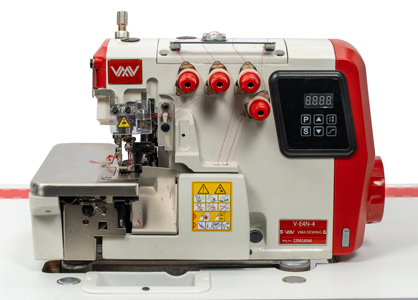 V-E4N-4-SST
High Speed 3/4 Thread Overlocker - Mock Safety Stitch
Powerful direct drive motor
Fast - up to 4900 stitches per minute
3-4 thread with mock safety stitch
LCD display for easy speed and needle position setting
Automatic oiling system with sealed oil pan
Differential feed
3.8mm maximum stitch length
Complete with bench and table
Waste catcher slide included
$1,699
V-T500-1
Portable Blind Hem Machine
Genuine blind hem function
Uses curved needle
Includes skip function
Adjustable needle penetration
$699
V-0303ET
Electronic High Speed Walking Foot Sewing Machine with thread trimming
Powerful direct drive motor with programmable speed control
Walking foot - top/bottom feed
Oversized rotary hook - larger bobbin
Fast under-bed thread trimming
Large LCD touch screen with multiple advanced programming options
Selectable needle stop position and programmable stitch sequence options
8mm maximum stitch length
Automatic oiling system with standard open oil pan
Easy threading with advanced thread clamp system
Built-in bobbin winder
Complete with bench and table
$2,199
V-20U53H
Zig Zag Lockstitch Machine with top and bottom feed
Powerful direct drive motor with programmable speed control
Oversize Hook with large front loading bobbin
Walking foot - top/bottom feed
LCD screen
Selectable needle stop position
5mm maximum stitch length
8mm zig zag width
Automatic oiling system with standard open oil pan
Easy threading plus built-in bobbin winder
Complete with bench and table
$2,999