StitchArtist Level 1 Digitizing Software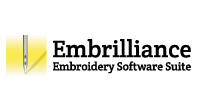 All prices are in Australian Dollars
New!
Pay in 4
4 payments of $62.25
4 payments of $62.25
Own it now, pay later
This software is available as a download only. When purchased, you will be emailed your serial number and more information to activate the module. Please note, you will receive your email within our business hours.
'Digitizing' or creating embroidery designs requires a skilled person using a specialised tool. StitchArtist is that tool! With StitchArtist software you can create machine embroidery designs from scratch, using existing artwork or by 'drawing with stitches'. You control the shapes and set the stitch type and properties, and StitchArtist generates stitches for you.
Easy and intuitive to use, StitchArtist has been designed to take the difficulty out of the software, allowing a user to concentrate on their design. The software uses a single mode to draw, set stitches, size, edit, rotate, sequence and set properties of design objects. Once you've learnt the basics described in the user guide you'll be delighted how easy it is to learn to digitize, and amazed at what you can create.
Level 1 is a great starting point and offers a robust set of properties and stitch types, with some of the more complex features of traditional digitizing removed. It is perfect for first-time embroiderers looking for a fun and easy way to create their own designs. Typical projects using Stitch Artist Level 1 include redwork, quilting, stippling, applique, freestanding lace fills, basic cross-stitch, satin borders, filled shapes, outlining and adding stitches to designs.
Create machine embroidery designs from scratch
You can let your creativity and imagination run wild using this program. You can draw your very own art or use the built-in shapes to construct something special, or even bring in a picture (such as .jpg). Control the shapes, sizes, set the stitching properties and let the program generate the actual stitches for you.
Easy editing and creating
Object creation and editing is easy with features like:
Instant and automatic stitch generation
Hundreds of editable vector shapes included
Easily create and alter geometric shapes with the automated shape tool
No mode changes for selection, editing, colouring, moving, sizing, rotating or adjusting properties
Try out all of the Stitch Artist features in the Demo Version.
Best of all, StitchArtist is a standalone program available in 3 levels to suit your skills and needs. When you're ready to advance, simply upgrade between levels. No dongle is required and it carries our 90 day money back guarantee.
Licencing and compatibility
Run StitchArtist on as many computers as you own. You can even mix and match between Mac and Windows and it will run on both platforms with the same activation code.
Compatible with:
Intel Mac OSX 10.5 to current
Windows XP 32-bit, Vista, Windows 7, Windows8/8.1 and Windows 10 32 & 64 bit operating systems
The Embrilliance suite
StitchArtist forms part of the Embrilliance suite. If you don't own any other Embrilliance products you can also use it as a standalone program.
SKU: BL-SAL1
Stitch Artist L1

By: Anne on 10 February 2022

Love the software, so very easy to use. Very happy with it. There is a learning curve, watching the Embrilliance Youtube videos made it easier to learn.
(5)
great software

By: Abbey on 6 August 2020

a quality program that offers plenty of options. perfect to meet my needs.
(5)
Stitch artist. 1

By: Marilyn on 17 January 2020

Love it.
(5)