Are you receiving our letters and emails?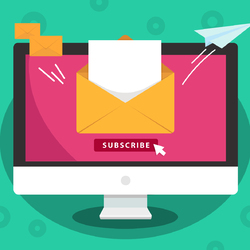 Sadly this is a typical conversation we have on a far too regular basis and unfortunately the reason is almost always out of our control.
Since the early 1990's Echidna has sent multiple letters and bulletins every year to thousands of customers by regular mail. We remember the days when a bulk mail letter was only 30 cents and delivery was usually the next day, but steadily the cost increased until by 2016 it hit the $1.00 mark and the delivery can take an eternity. Quite simply, with a need to send over 16,000 letters, the cost is prohibitive and hence we only send printed bulletins like this twice per year. With postage, printing, production and handling costs, it's a $20,000 expense each time.
With this demise of regular mail, like most companies we rely heavily on emails as our main form of contact. In fact we send at least one email a week to all our customers around the world. Thank goodness for emails – right?
Well not entirely! As cheap and effective as emails can be, there are many reasons outside our control why you may not receive what we send. Let us explain...

1) SPAM...
Obviously we both know that Echidna does not send spam emails but it's entirely possible that your email service provider will take a different view and dump our email into your spam folder – so always check your spam folder and mark our emails as "not spam".

2) UNSUBSCRIBE...
This is so common because it's easy to do accidentally. Once you've unsubscribed, we can't send you emails – it's the law. Just give us a call or send an email if you'd like us to check and reinstate you on our list.

3) YOU'VE OPENED IT, NOT READ IT & FORGOTTEN ABOUT IT...
Sounds crazy but it's also really commonplace. It's just the busy lives we lead and the large number of emails we all have to deal with every day.

Tip: If you open an email and intend to come back to it, it's a good idea to tag or label it appropriately.

4) SOMEONE HAS DELETED IT...
This is almost too funny to think about but if you share an email address with a spouse or partner, make sure they aren't simply deleting some of your emails. We've had many customers who discovered their partner was hiding the specials. I guess it's one way of saving money!

5) WRONG EMAIL ADDRESS...
Yep, happens all the time. It only needs a typo error by either you or us and the email address we have is wrong. You won't get emails that way!

6) LOST IN SPACE...
This is the least likely reason but sometimes we just can't explain why you didn't receive an email from us. We can with 100% certainty see that it was sent but if you never received it, it's not in your spam folder, the email address was right and it didn't bounce back to us then we have no explanation – it's simply lost in cyberspace!
But with all this said, imagine a world without emails. We send at least one email every week. We don't aim to inundate you and we try hard to provide a mixture of content including specials, education, news and event information.