Are you receiving our emails?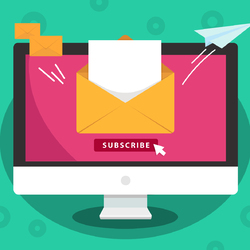 Sadly this is a typical conversation we have on a far too regular basis and unfortunately the reason is almost always out of our control.
From the early 1990's, we were sending multiple letters and bulletins every year to thousands of customers by regular mail. Bulk mail used to only cost 30 cents and delivery was usually next day, but steadily the cost increased. By 2016, it hit the $1 mark and the delivery time expanded to much longer.
Due to the costs of printing today along with the need to be sustainable for our environment, we no longer send out printed letters or bulletins. Like most companies, we rely on digital emails as our main form of contact. However, as cheap and effective as they are, there are many reasons outside of our control as to why you may not be receiving what we send. Let us explain...

Checked all folders?
Mail clients often have rules set up to move emails automatically into a folder. If you have any of the following folders, make sure you check them for your missing mail: "Echidna Sewing", "spam," "junk," "promotional," "update," "focused," and "other".
It is common that your emails might be going to spam so always check your spam folder and mark our emails as "not spam".
---

Do we have the wrong email address?
Yep, this happens all the time. It only needs a typo error by you or us and the email address we have is wrong. You won't get emails that way! We are communicating with whatever address is on file, so please check all of your email accounts!
---

Unsubscribed accidentally?
This is so common because it's easy to do accidentally. Once you've unsubscribed, we can't send you emails – it's the law. Just give us a call or send an email if you'd like us to check and reinstate you on our list.
---

You've opened it, not read it & forgotten about it
Sounds crazy but it's also really commonplace. It's just the busy lives we lead and the large number of emails we all deal with every day. Tip: If you open an email and intend to come back to it, it's a good idea to tag or label it appropriately or mark it as unread.
---

Search your emails
At the top of your emails, there should be a search bar. In the search box, type "Echidna Sewing," then press Enter or Return on your keyboard. This will allow you to search for all of the emails you've ever gotten from us, as well as show you what folders these emails are sent to.
---

Someone has deleted it
This is almost too funny to think about but if you share an email address with a spouse or partner, make sure they aren't simply deleting some of your emails. We've had many customers who discovered their partner was hiding the specials. I guess it's one way of saving money!
---

Lost in space
This is the least likely reason but sometimes we just can't explain why you didn't receive an email from us. We can with 100% certainty see that it was sent but if you never received it, it's not in your spam folder, the email address was right and it didn't bounce back to us then we have no explanation – it's simply lost in cyberspace!
---
What can you do?

'Whitelist' Echidna Sewing!
Make sure to add Echidna Sewing to your 'whitelist'! Whitelisting a contact means identifying them as 'safe', allowing them to communicate directly to your inbox. Whitelisting guidelines for a variety of email providers are provided below. (If these steps don't work, you may need to do additional research.)
---

Tag, star or mark as 'important'
If you receive an email from Echidna Sewing, mark it as "important" or click the star. This will ensure that subsequent emails are sent to your inbox rather than being filtered out.
---

Use a computer
If Echidna sends you an email with a link to a digital download, you will need to use a computer (MAC or Windows), not a mobile device (Embroidery files are not compatible with phones or tablets!).