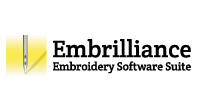 All prices are in Australian Dollars
New!
Pay in 4
4 payments of $14.99
4 payments of $14.99
Own it now, pay later
This software is available as a download only. When purchased, you will be emailed your serial number and more information to activate the module. Please note, you will receive your email within our business hours.
Have you ever gone through your computer's folders looking for a design that you know you saved 'SOMEWHERE,' but can't recall where? Embrilliance Thumbnailer allows you to view thumbnail images of design files, saving you time and frustration.
View your designs without opening them
Embrilliance Thumbnailer replaces your embroidery file icons in your operating system's file utilities with graphical previews so you can view file previews without having to open them. This makes choosing your design so much quicker and easier, as you can simply scroll through to find the one you're looking for.
Extremely easy to set up
Thumbnailer is extremely easy to install and once it is set up on your computer, it works quietly in the background. You won't have to open it every time you want to view a file, it works as more of a plug-in program.
With an affordable price tag, viewing your design files has never been easier!
Works on Windows XP (32 bit), Vista (32and 64 bit), Windows 7 (32 and 64 bit), Windows 8 (32 and 64 bit), Windows 10 (32 and 64 bit) or Mac OSX v. 10.4 upwards. One CD for both Mac and PC!
Please note: Thumbnailer is not part of the Embrilliance Software Platform. You can purchase modules from the Embrilliance software platform to expand your creative freedom with brilliant features!
SKU: BL-ET
THUMBNAILER

By: Joan on 17 May 2022

Being able to see a thumbnail picture makes it a whole lot easier to find my embroidery files. Well worth the money
(5)
Such a Game Changer

By: Robyn on 26 April 2022

I love the Thumbnailer because it is showing me the designs on the computer without me having to open them. Often the PES format is not as close to the right colours as some of the others so it is giving me opportunity to open another format and then save in PES. Would highly recommend.
(5)
Embrilliance Thumbnailer

By: Patricia on 28 September 2021

I was looking to update to PE Design 11. After having a long and very helpful conversation with Jackie in Support, who asked me why I was looking at PE Design 11, Thumbnailer was recommended to me as it would do what I was looking for. It has done what I wanted to do. I have been able to look at the PES designs and see the colours. I didn't know much about the Embrilliance products, but by asking a question has really helped. I would recommend Thumbnailer .
(5)