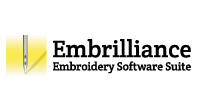 4 payments of $14.99

Own it now, pay later
This software is available as a download only. When purchased, you will be emailed your serial number and more information to activate the module. Please note, you will receive your email within our business hours.
Have you ever been searching through the files on your computer looking for a design that you know you saved 'SOMEWHERE', but you can't remember exactly where? Embrilliance Thumbnailer from Brian Bailie of Briton Leap software allows you to view thumbnail images of design files.

If you happen to own a program such as Buzz Xplore you can certainly manage, convert and see what designs you have (when you are viewing the folder containing the designs), but what about those errant designs that sometimes end up mixed in with other files and folders.
You know the ones, you are in a hurry and you install, convert or perhaps even copy a design to a folder with the good intention of going back later and moving it to another more obvious location. But, if later never comes (you get busy, the phone rings, the kids/grankids are screaming in your ear etc.), you know that you have a design hiding 'SOMEWHERE' but now can't find it!

Sure you can look at a file name in the Windows Explorer or My Computer screen – you can even do a search, but oftentimes the name of a design file can be rather cryptic e.g. abil34.jef, so you are still left wondering just exactly what the particular design looks like!

Embrilliance Thumbnailer can help solve this problem for you by turning your Windows Explorer or My Computer window on a PC or the Finder window on a Mac into a handy design viewer, so you will always be able to click on a folder and see if any designs are lurking in there.
This is not a program you have to open everytime you want to view a file (it is more like a utility or plug-in) ... once installed, it just works quietly in the background.
As the name suggests, this magical little plug-in will allow you to view thumbnail images of all the design files that you have on your computer, USB stick, external drive, CD etc.

With an affordable price tag, viewing your design files has never been easier!
Works on Windows XP (32 bit), Vista (32and 64 bit), Windows 7 (32 and 64 bit), Windows 8 (32 and 64 bit), Windows 10 (32 and 64 bit) or Mac OSX v. 10.4 upwards. One CD for both Mac and PC!
Please note: Thumbnailer is not part of the Embrilliance Software Platform.
(BL-ET)
| | |
| --- | --- |
| SKU | BL-ET |
| Brand | Embrilliance |
| Shipping Weight | 0.0500kg |
Thumbnailer

By: Lynda on 20 November 2020

Wish I had bought it before! Excellent easy to use.
(5)
Thumbnailer

By: Diana on 13 November 2020

Incredibly useful. Love it!
(5)
Thumbnailer makes it so much easier

By: Lynne on 24 September 2020

Easy to install and use.
(5)