1000m Hemingworth Thread Set - 64 Colours
Closest Match to Brother Thread Range (Labels Supplied)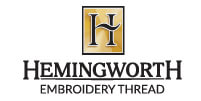 All prices are in Australian Dollars
New!
Pay in 4
4 payments of $99.75
4 payments of $99.75
Own it now, pay later
This set of 64 Hemingworth threads are the closest match to their equivalent colours in the Brother thread range. The set includes the entire 61 Brother colours, plus an extra black thread, white thread and white bobbin fill spool. Each spool is labelled with both its Hemingworth and corresponding Brother colour name/number.
The set comes presented in a solid white cardboard box, with a magnetic clip. The threads sit in two removable cardboard trays for easy access. It's perfect for permanent storage of the threads or as a gift box.
All Hemingworth spools come complete with the patent pending spool, cap and stopper system. Each spool contains 1000 metres (except bobbin – 1500m) of hi-sheen polyester embroidery thread.
This amazing thread is 100% colourfast, soft and supple with superb stitching results – giving a brilliant lustre.
Suitable for stitching machine embroidery designs and built-in decorative machine stitches.
SKU: HEMBROTH
Barcode: 785459688053
Hemingworth Thread set 64 colours

By: Katrina on 26 April 2022

This should be titled 64 spools as there are numerous whites and blacks ie duplicated with embroidery thread and bobbin thread, so colours is not the correct word to use. Happy with the product. It is a pity the cardboard dividers aren't a little more sturdier as they are starting to rip as you take out the first layer and I was hoping to keep them all in the case provided.
(4)
1000m Hemingworth threads set 64

By: Marlene on 22 February 2022

Beautiful thread to work with and looks lovely when sewn out.
(5)
Amazing thread

By: Diane on 3 December 2021

Makes such a difference to embroidery work. I wish I'd bought it sooner. Just Brilliant
(5)