1000m Hemingworth Pre-Packed 15 Thread Set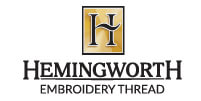 All prices are in Australian Dollars
New!
Pay in 4
4 payments of $26.06
4 payments of $26.06
Own it now, pay later
Hemingworth Pre-Packed 15 Thread Set
The set comes presented in a solid white cardboard box. It's perfect for permanent storage of the threads or as a gift box.
All Hemingworth spools come complete with the patent pending spool, cap and stopper system. 15 popular colours, each spool contains 1000 metres of hi-sheen polyester embroidery thread.
This amazing thread is 100% colourfast, soft and supple with superb stitching results – giving a brilliant lustre.
Suitable for stitching machine embroidery designs and built-in decorative machine stitches.
Colours include:
Classic Black #1000
Pure White #1001
Orange Slice #1025
Primrose #1034
Ecru #1056
Nautical Blue #1076
Green Apple #1091
Teddybear Brown #1130
Peach Pastel #1170
Brilliant Blue #1204
Sunshine Yellow #1226
Meadow #1248
Summer Sky #1257
Dark Purple #1269
Christmas Red #1270
SKU: H-15BONUSSET
Barcode: 785459688046
Hemmingworth Embroidery Thread

By: Beryl on 5 April 2022

I am very happy with this product it gives a great finished result for all my embroidery designs
(5)
100m Hemingworth Pre pack

By: Marlene on 31 December 2021

I just love the colours
(5)
Hemmingworth Thread

By: Eileen on 13 November 2021

This thread is so good to use and the handy covers are a great idea
(5)