5000m Hemingworth Thread Set - 61 Colours
Closest Match to Brother Thread Range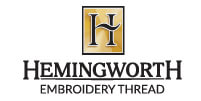 All prices are in Australian Dollars
New!
Pay in 4
4 payments of $199.75

4 payments of $199.75
Own it now, pay later
This set of 61 Hemingworth threads are the closest match to their equivalent colours in the Brother thread range in a 5000m spool.
Each spool contains 5000 metres of hi-sheen polyester embroidery thread.
This amazing thread is 100% colourfast, soft and supple with superb stitching results – giving a brilliant lustre.
Suitable for stitching machine embroidery designs and built-in decorative machine stitches.
Download a Hemingworth to Brother Colour Chart.

Please note: These spools do not include the spool and cap system due to their larger size.
For more information, including the thread conversion charts please see our Hemingworth Thread page.
SKU: H5-FULL61
61 X 5000m Thread Set.

By: Janice on 10 April 2020

I`m ever so glad for buying the Hemingworth 5000m Full 61 Thread Set. I`ve got the color I want when I want it now. Thanks for the wonderful mix of colors.
(5)
More From This Category