Siser Easy Puff is a type of Heat Transfer Vinyl that boasts a 3D texture that can expand up to three times its original height when subjected to heat. It is a convenient material to manipulate as it is easy to cut, weed, and apply, and can enhance the visual appeal of your design. This vinyl is particularly suitable for uncomplicated shapes and large components, as the small cavities will expand during the puffing process. If you're looking to add some dimension and fun to your projects, Easy Puff Vinyl is the perfect choice!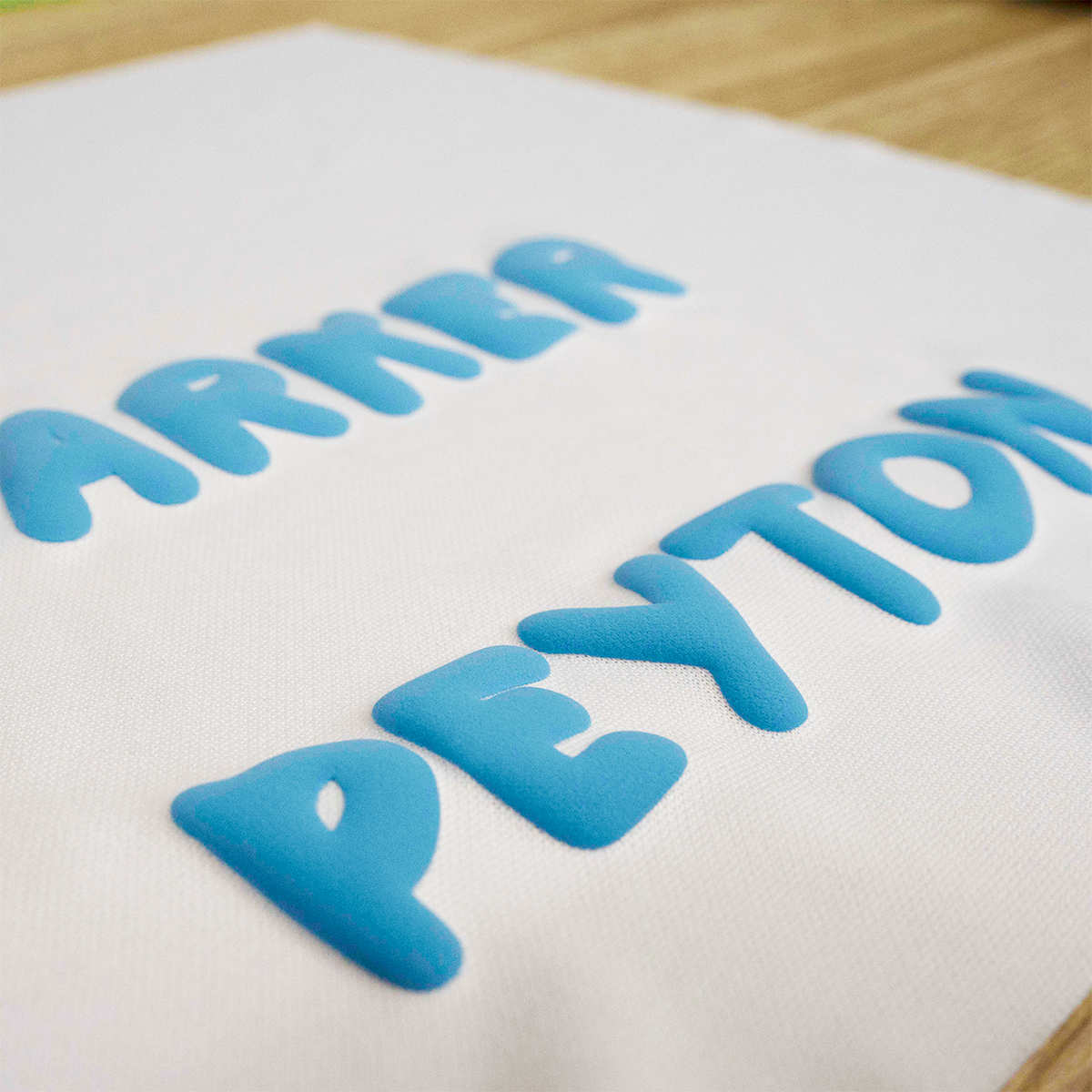 Application
Highly recommend to perform a test before launching a production.

Press time: 10 to 15 seconds


Remove and peel while hot
Washing

Wait 24 hours before first wash. Cold wash inside-out.


Suitable for tumble dry (synthetic cycle)

Do not use bleach or other agressives chemical agents
Suitable textiles



Poly/cotton blends (not for dye sublimated fabrics)
Important notes:
Cut the glossy side and mirror cut design (Matte side down).
We recommend using paper tape to hold down the vinyl on your mat as it may not stick very well.
Puff is designed to withstand ONLY ONE HEAT APPLICATION. Repeated applications will flatten the puff effect permanently.
It is not recommended to apply this material with a home iron.
Texture of applied material can vary from lightly textured to heavily textured.
For best results use a cover sheet, baking paper, or copy paper - avoid using Teflon sheets.
| | |
| --- | --- |
| SKU | S-PUFF |
| Brand | Siser |
| Products available | |
| S-EPUFF12AP | Apple Green Siser Easy Puff Heat Transfer Vinyl 30x50cm |
| S-EPUFF12BL | Black Siser Easy Puff Heat Transfer Vinyl 30x50cm |
| S-EPUFF12NB | Neon Blue Siser Easy Puff Heat Transfer Vinyl 30x50cm |
| S-EPUFF12NO | Neon Orange Siser Easy Puff Heat Transfer Vinyl 30x50cm |
| S-EPUFF12NY | Neon Yellow Siser Easy Puff Heat Transfer Vinyl 30x50cm |
| S-EPUFF12PI | Pink Siser Easy Puff Heat Transfer Vinyl 30x50cm |
| S-EPUFF12PU | Purple Siser Easy Puff Heat Transfer Vinyl 30x50cm |
| S-EPUFF12RE | Red Siser Easy Puff Heat Transfer Vinyl 30x50cm |
| S-EPUFF12SK | Sky Siser Easy Puff Heat Transfer Vinyl 30x50cm |
| S-EPUFF12WH | White Siser Easy Puff Heat Transfer Vinyl 30x50cm |