Best Press Starch Spray- Scent Free 499ml
Clear starch & sizing alternative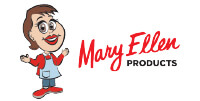 All prices are in Australian Dollars
New!
Pay in 4
4 payments of $4.92
4 payments of $4.92
Own it now, pay later
Mary Ellen's Best Press non-aerosol spray starch is earth and people friendly, and the bottle is clear so you can easily see how much is left.
Best Press is more effective than any starch you've ever used. After using it you'll never go back to ironing with spray starch!
With Best Press you won't have flaking or clogging and there will be no white residue left on dark fabrics.
Save time and money:
Two products in one – starch and sizing
Use on all fabrics
No clogging = no waste
No flaking, even on dark fabrics
No residue or shine
No spotting
Makes ironing easier
Relaxes stubborn wrinkles
Safe storage – doesn't attract bugs
Acid free
Guards fabric from soiling
Size: 499ml (16.9 fl oz) plastic bottle
Barcode: 035234600344
Mary Ellen Best Press

By: Heather on 19 December 2020

Fabulous product, a little spray, iron - voila, seams are so easy to sew. Gives a beautiful professional finish to your article
(5)