How to make an embroidered badge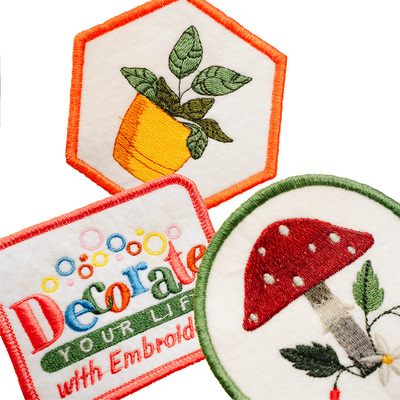 Embroidered badges have been around for centuries. Traditionally, hand embroidered badges were used to decorate and more popularly, to signify status or belonging in the same way an embroidered uniform identifies that the person wearing it belongs to a group or organization. Badges are also presented as awards and as mementoes for special occasions. Even though we can now easily embroider directly onto garments, the embroidered badge industry is still enormous and demand for badges is still very high.
Typically to achieve an attractive badge edging or border, the embroidered patch would be overlocked on a special machine called a Merrow Machine. In fact the Merrow Sewing Machine Company invented overlockers back around 1889 and their "Merrow Emblem Machine" has changed little over the years. However, it costs a few thousand dollars and I don't think too many home or small business embroiderers will be keen to invest in one.
But there are simple and inexpensive ways to make your own badges or emblems using any home or multi needle embroidery machine.


What is a badge typically made of?
The answer is; not much! You will simply need the following ingredients:
An embroidery design
This could be something you already have or have digitized yourself. It does NOT need to be specially designed for badges.
A stable backing fabric
Badges can be made on almost any fabric but you need to remember that a more stable fabric will result is a more stable, longer-lasting badge. Here are some examples:
Heavy woven drill (imagine the fabric for tradesmans' overalls)
Denim
Echidna Shaping Felt – this is what we'll be using for our example
A non-woven washaway stabilizer
Echidna 50gsm Washaway is perfect.

A satin border design

If you are competent with digitizing software, you can create your own. If not, a great selection of badge shapes and sizes are available in the Lindee Goodall Badges and Frames Design Set.
Here is how it works
We are going to use the "Decorate Your Life" stitch file as illustrated to the right. We have already created a satin border stitch which will become the badge edge.
Step One
Decide on the general size and shape of your badge and choose or design the embroidery that you wish to feature on the badge. If you are using one of our free satin border designs, you will need to work within the size of the border you have chosen.
Step Two
Print a badge size template. We have provided this as a PDF file with the free badge border designs. If you have created your own border you will need to print the placement stitch as a template. This can be easily achieved with Embrilliance Essentials.
Note: The placement stitch is the very first colour change of the badge border design and you will use this template to draw and precut your badge fabric. We recommend you cut a template using heavy card or even a thin but firm plastic as you can use this template over and over again. You could even cut a template with the Brother ScanNCut.
Step Three
Use the template you have just created to mark and cut as many badges as you wish to embroider.
Step Four
We recommend that you merge the border design with your chosen embroidery and save it as one file. Make sure that the border design is first in the stitching order. Some machines will allow you to add or merge designs on screen. Or of course you can merge designs easily on your computer using your customizing or editing software. Embrilliance Software by Brian Bailie is also perfect for merging designs.
Step Five
Now with your embroidery design, including the border loaded on your machine and using the smallest hoop suitable for the job at hand, hoop one layer of Echidna Non-Woven Washaway Stabiliser or equivalent and stitch the first colour only - this is the fabric placement stitch. If you are using a multi needle machine, be sure to stop the machine after the first colour.
Step Six
Take the precut Shaping Felt and apply a VERY LIGHT coat of 505 adhesive spay or equivalent. Tip: Always use adhesives sparingly as overuse can harm your machine and never spray in close proximity to valuable machinery or equipment. We recommend 505 Spray.

Now position (stick) the precut Shaping Felt precisely in alignment with the placement stitches. You may find it easier to remove the hoop from the machine to do this.
Step Seven
Proceed to stitch the rest of the design. If you have cut and aligned everything correctly, the satin border stitch will wrap beautifully around the edge of the Shaping Felt and because of the way we have digitized the border, it will provide a neat and stable badge edge.
Once stitching is complete, cut away the excess washaway and soak the badge in warm water for a minute or two and allow it to dry.
Attaching the badge to an item

Now that you have made a badge, you may want to apply it to a garment or other item such as a sports bag. We use and recommend Echidna Hot Melt Film. It's easy and very permanent. Naturally you could also stitch the badge to the intended item.
Applying the Hot Melt Film

This is a two part process as you must first apply the film to the badge.
Step One
Precut a piece of Hot Melt Film to suit the size of the badge. Place the finished badge face down on the backing paper side of the hot melt film and trace the shape using a pencil. Cut out the required shape.
Step Two
Place the badge face down on a pressing mat and position the Hot Melt Film on the badge with the backing paper facing up and press with a hot iron (No Steam) for approximately 10 seconds.
Step Three
Allow the badge to cool and remove the backing paper.
Step Four
Now it is time to attach the badge to the fabric. It is important to press the fabric to the badge and not the badge to the fabric. Simply place the badge face down on a pressing mat and position the fabric on top of the badge. Press with a hot iron for approximately 10 seconds. This time will vary depending on the thickness of the fabric. For example heavy denim may require 15 to 20 seconds
Basic Guidelines for Digitizing a Badge Border

A badge border is very similar to an applique but you will precut your badge fabric rather than cut it after it has been tacked down.
Step One
Using your digitizing software (such as Perla or StitchArtist), you will need to use a placement stitch which should be a simple single run with a colour stop or stop command at the end. This area will be the same size that you will cut your badge fabric.
Step Two
Next you will need a single run tack down stitch with a negative offset of -1mm. This stitch will secure or tack down the badge fabric in preparation for the satin border stitch.
Step Three
The badge border stitch is simply a satin stitch, typically with a 3.5mm width and a 20% higher than normal density or in other words a tighter, more dense satin stitch. It is best to leave the zig zag underlay turned on as this will help to prevent any errant edges of fabric poking through the satin border.
Tip: When creating a badge border, avoid sharp corners. Try to keep smooth rounded lines as this will not only make it easier to precut your badge fabric, but will give you a far better and more consistent satin border.
So as you can see, it's not that hard and in fact can be a lot of fun. It's also a great way to create hanging mobiles and even Christmas ornaments.