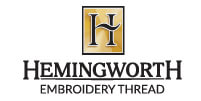 All prices are in Australian Dollars
New!
Pay in 4
4 payments of $7.49
4 payments of $7.49
Own it now, pay later
The Hemingworth thread colour charts are in a unique spiral bound, flip-style hard cover booklet.

With actual thread samples on each of the colour pages, choosing the exact colours for your designs and embroidery projects has never been easier.
Barcode: 843219004175
Top Quality

By: Judith on 22 March 2023

This colour chart is a great asset to have on board. Thankyou
(5)
Great Tool for Thread Selection

By: Tina on 5 March 2023

I love this product! This is an excellent tool to help with selecting thread for my projects as this colour card uses actual thread so it makes it so easy to match my fabrics.
(5)
Hemingworth Colour Card

By: Denise on 2 February 2023

Brilliant! Absolutely love this. The fact the colours are actually thread rather than printed colours which varies from the colour you are looking for. I've been using both Hemingworth and Brothread and although I have a conversion from Brother to Hemingworth but this only had numbers and a separate Brother thread chart so using all colour cards was able to cross reference and find the colour nearest the one I needed. With the Hemingworth colour cards, at the back is a list of all the thread numbers which then tells you what numbered card to find that particular colour. I wish all thread manufacturers did it this way. Printers are limited to the colours it can actually print
(5)