Brother SDX2200D Disney ScanNCut DX
Machine Only
Free shipping (incl. insurance) Australia-wide
All prices are in Australian Dollars
New!
Pay in 4
4 payments of $224.75
4 payments of $224.75
Own it now, pay later
Unsure if this is the right machine for you?
Call us on
1800 000 360
and speak to one of our machine experts
Chat online
during business hours or leave us a message
Bring a touch of Disney to your crafting
The ScanNCut SDX2200D allows you to bring a touch of Disney to your sewing and crafting projects! With 132 built-in Disney designs, 1435 built-in designs in total, 140 quilt patterns and 17 lettering fonts, you'll have unlimited options to explore your creativity. You can scan and cut virtually any material up to 3mm thick and create personalised projects, home decor, customised artwork designs and much more!
Using the ScanNCut tools, you can foil, emboss, draw, paper piece and incorporate rhinestone to create the projects you've dreamed of doing. With a 5" LCD touchscreen display for easy editing, auto blade sensor technology, whisper quiet mechanism and so much more, the ScanNCut SDX2200D is a breeze to use.
Create your art virtually anywhere and anytime with the wireless-ready features that work with CanvasWorkspace. Plus, you can work remotely on your PC, tablet or your phone and send cut files directly to your ScanNCut DX, wirelessly.
Cut through virtually everything you can imagine
Blade sensor technology with auto blade
Cuts up to 0.1" (3mm) thickness
Thin fabric auto blade
Stand alone - no PC required
Seam allowance and sewing guidelines
PES/PHC/PHX file readability
Whisper quiet
Matless cutting
Up to 600 DPI for the Scan to USB function
Turn your scanned images into unique one-of-a-kind cut designs and patterns
1,435 built-in designs
17 lettering fonts, 140 quilt patterns and 132 built-in Disney designs
Advanced editing with CanvasWorkspace
Create, edit, convert and send cut data to and from the machine
Built-in storage
Ample storage for your tools, plus it can be used as a wide-flat work surface.
Scanner height position lever
Two positions for the built-in scanner - changed when using thin materials or thicker materials
Precise, quick cuts and more!
Cuts faster than previous ScanNCut models
Included extras:
Rhinestone Trial Kit
You'll receive a Rhinestone Trial Kit with enough materials to use the 7 built-in rhinestone designs on your machine. It's perfect to get you started on your ScanNCut creations!
Optional accessories:
ScanNCut Carry Bag
The perfect on-the-go carry bag for your Brother ScanNCut. With this bag at 65cm long, you can easily pack up your ScanNCut machine to bring along to lessons and workshops!
Roll Feeder
Expand creative possibilities by cutting 10" (305 mm) wide rolled material with the new roll feeder function for home-décor items, car decals, signage and so much more.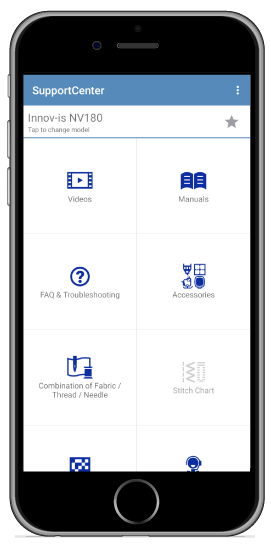 Support at your fingertips
with the Brother SupportCenter App
---
Our tuitional movies and a support app are only a click away, so download today. To get your creativity flowing we've produced some 'how-to' movies to help and inspire you, find them on our website.
Download from the Apple App Store or Google Play
SKU: SDX2200D
Barcode: 4977766801096
Love

By: Debra on 25 March 2021

What a great buy. All the extras included with the machine makes it so much more fun, with the rhinestones, Vinyl's, even the card stock to make a bag. Love that you can go on brother canvas workspace and create designs yourself and all the different files they have on the program to do. Another feature that is so cool is the automatic blade, I have an earlier model of scan n cut and with adjusting the blade is time consuming. Brother have outdone themselves with this machine. Echidna customer service is outstanding. I rang for this order as it was out of stock, but they just got a shipment in when I rang and I received it quickly. Great package. Thankyou Echidna for your great service and great prices.
(5)
AMAZING

By: Teresa on 19 November 2020

WOW its amazing, we have not stopped using it for different ideas in a week since receiving. Done kitchen labels, made reindeer lolly pop holders, made personalised drink bottle and christmas ballballs . The projects are endless.
(5)
Brother SDX2200D Disney ScanNCut DX

By: Linda on 30 September 2020

Absolutely love it, fantastic machine.
(5)