Special Events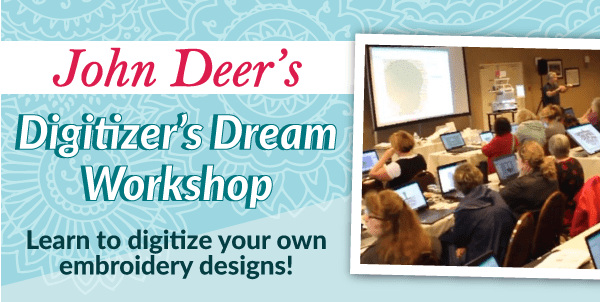 Brisbane | Sydney | Melbourne | Auckland
Is it time to master your embroidery digitizing software and create your own unique embroidery designs?
Who is John Deer?
John Deer has been the most awarded embroidery digitizer in the world for over two decades now. As a 4th generation embroiderer, John is one of North Americas leading experts on digitizing and embroidery for the corporate and home marketplace. John has an extremely unique history in the embroidery digitizing industry as he is one of the last two remaining Schiffli Masters in North America.

John learned and apprenticed under Swiss Schiffli Master Digitizers (then known as "punchers") over 30 years ago in his grandparent's factory, before computers even entered the digitizing world. Since then, John has personally won 30 separate digitizing awards and wrote the book on digitizing called "Digitizing Made Easy" which has sold over 44,000 copies. John has produced hundreds of instructional and educational videos, which apply to embroidery enthusiasts of all levels. He has given hundreds of workshops and seminars all over the world & taught well over 100,000 people. Given John's unique old-school training, family history, and vast embroidery knowledge, he is truly a master embroiderer & digitizer.
You can find out more about John Deer here:
https://digitizingmadeeasy.com/about-us/
---
Will everyone have to use Hatch at the event? I use a different embroidery software program already..
Yes, everyone will need to be using Hatch at the event as having everyone run the same software is the best way to smoothly run a hands on digitizing class.
If you don't have Hatch, you can get a 30 day FREE trial which you can use during the event. This will need to be installed onto your computer prior to the event.
The theory and skills you learn during the training will be transferrable to other software.
---
I got the trial of Hatch in the past, will I be able to get the trial again to use for the event?
We will ensure everyone has access to the software at the event.
---
Does Hatch work on a Mac computer?
Hatch does not work natively on a Mac computer but you can get a programme called Parallels to be able to run Hatch on your Mac.
---
I don't really want to become a digitizer or I don't really have an interest in digitizing designs from scratch. Will the content be relevant to me?
Absolutely! Creating embroidery is an all round experience and understanding how the designs are created is an important piece of knowledge for any embroiderer, even if you don't want to go on to create your own designs.
---
I have a laptop but do not have my own portable internet connection
You don't need to have a portable internet connection for the event as we will supply Wifi for you at the venue.
However, you will need to have Hatch on your computer to use during the event so we can all follow along using the same tools. Hatch has a 30 day free trial so if you don't have Hatch, you can download the trial and set up the software a week or two before on your laptop so it's ready to use at the event.
---
Is there a discount for Platinum members?
Event pricing is not discounted and is usually based on our fixed costs anyway. Platinum members do get priority attendance opportunities though.
---
I am subscribed to the newsletter but missed the email with the info
Oh no! We're sorry you didn't see it! Have a quick look through your spam/junk folders and your deleted items incase it got caught up when you were deleting something else.
If you don't have the email, make sure you've ticked the box on your Echidna account to receive future newsletters from us, you can find it by logging into your account and going to "Edit My Account Details" and look under your Email Address in the Contact Information section.
You can find out all the details for the event and book your spot on our website:
https://www.echidnasewing.com.au/special-events/john-deer-digitizers-dream-workshop
---
I'm a beginner/experienced digitizer – is this event for me?
Yes absolutely, this event will cater to all levels and everyone will come away with expanded knowledge on embroidery digitizing, long with massive inspiration from sharing a room with other embroiderers for a couple of days!
Workshop Schedule:
First Day:
8:00am- Registration
9:00am- Embroidery Basic Essentials (Lecture)
Regardless of the machine brand or software you own, the end results should always be the same… beautiful stitches creating soft embroidery! Getting consistent results begins with a firm grasp of the basics. Explore hooping basics, choosing the right stabilizer, selecting appropriate needles and thread, along with repairing and finishing your embroidery. We will also discuss how to choose the right design and customize it as needed for the fabric you're working with.
11:00am- Digitizing Made Easy (Lecture)
Before we dive into the software it is vitally important that a solid foundation is in place. This session will cover the three basic stitch types and their rules. Participants will understand the meaning and variables associated with underlay, push and pull compensation, density and properly pathing an embroidery design.
12:30pm- Lunch
1:30pm- Laying the Groundwork (Hands-On)
This session will go over and show you how to use all the tools we will need to create the designs coming up. Fun and easy exercises will get you used to using the running stitch, satin stitch and fill stitch tools. We will show you how to successfully create straight and curved objects as well as cover various hot keys and tips associated with "production style" digitizing.
3:00pm- Break
3:30pm- Creative Creations "Free-4-All" (Hands-On)
With all the rules firmly in place, it's now time to unleash your creativity. Digitizing needs to be FUN not Frustrating! This exercise will show you how easy it is to implement what you've learned so far and know that because you are now following set rules, designs you create don't need to be a mystery when you stitch them out.
5:00pm- Day 1 Complete
Second Day:
9:00am- Lettering Basics (Hands-On)
Ever wonder why some fonts, even keyboard fonts, stitch better and look cleaner than others? It's all in how they are digitized and the proper use of underlay and push and pull compensation. One of the best ways to learn proper mapping techniques for digitizing is to learn how to manually create a letter. So that's what we are going to do: digitize fonts the "old fashioned" way… and don't worry if you're brand new or been digitizing for years… I'll keep you all busy!
10:30am- Break
11:00am- The Main Event (Hands-On)
In this session, we will all be digitizing the same design that will implement all three stitch types. You'll have the opportunity to use artistic merit and "sketch work" techniques and well as "precision punching" elements within the design. Don't worry, I'll give you the entire game plan and be digitizing the same object you are on the large screen.
12:30pm- Lunch
1:30pm- The Main Event Continued (Hands-On)
Yes, you needed a break for this one… now that you've refuelled your tanks let get back to it!
3:00pm- Break
3:30pm- Fast and Fun Techniques (Lecture/Hands-On)
Believe it or not, you might be getting tired right about now. So, I invite you to either sit back and enjoy the ride or jump right back into the driver's seat… the choice is yours.I'll show/digitize a whole bunch of quick examples of these and more speciality techniques.
Applique
Reverse Applique
Cutwork
Mylar
Fringe
3D Foam
Blending Techniques
Digitizing for Caps
The above will be shown as time permits, a class census will be taken to prioritize subject matter.
5:00pm- Session Complete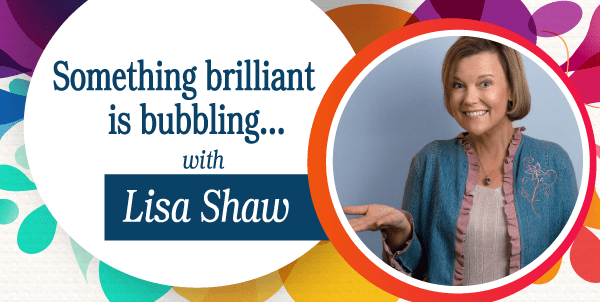 Brisbane...
We've got something exciting in the making and you won't want to miss it. Stay tuned for more details to come!
Learn More
Buy Tickets
Cancellation Policy
Full refunds are available up to four weeks prior to the event date. We may apply a full account credit within the last four weeks at our discretion. To request a cancellation, please contact us by emailing sales@echidnasewing.com.au or call us on 1800 000 360