Easter carrot bag
Date Posted:27 March 2021
A quick project to make before an Easter hunt on Sunday! These cute little bags are just the right size for a few eggs. We chose an overlocker to piece this project together because it stitches, cuts and neatens seams all at the same time. Don't forget to show us your finished projects on Instagram or Facebook #echidnasewing #nicolescarrots #madebyme
Machines Used
Merrylock overlocker - set to 3 thread narrow (If you don't have an overlocker, use your sewing machine following the same steps and use a ¼" seam, and neaten your seams with a zig zag.)
NV180 Sewing Machine - Buttonholes
---
Material Requirements
---
Method
Cut a 1" strip by the width of the fat quarter and set aside
Cut 4 x Wedges for the carrot base from the fat quarter
Cut rectangle to 8 ¾" x 4 ½" - carrot base
Fold each wedge in half, and mark with blue pen or tailors chalk. Measure 1" down from the top of the wedge. This is where the button hole will begin. Repeat for the other wedge pieces.
---
Stitching Steps
Buttonholes
Place a piece of stabiliser underneath the T marking on your wedge piece and slide under the buttonhole foot.
Using the markings on the foot, line up the top mark and straight line in the buttonhole foot. Stitch your buttonhole. Repeat for the other wedge pieces.
Remove the softaway, and cut open the buttonholes.

Overlocking or Machine piecing
Set your machine to stitch 3 thread overlock stitch. This stitch has been chosen as it is narrow and about the same size as a ¼" seam.
Stitch the wedge pieces right sides together in pairs. Begin overlocking from the bottom of the wedge. You should have 2 x sets of 2 wedges.
Place the two sets together, nesting the seams at the bottom of the carrot. Stitch each side in place.
Overlock the bottom of the wedge, trim threads.

Fold the rectangle in half vertically, overlock together.

Fold the rectangle in half again with overlocked seam on the inside of the carrot top.

Attach the carrot top to the top of the carrot base, raw edges together.

Overlock around the top, ensure raw edges of the fabric stay level as you stitch.

Turn in the right way and cut the carrot top 1cm apart to create the fluffy finish.

Thread your 1" piece of fabric through the buttonholes.

Stuff with eggs or other goodies that can be found on the Easter Egg Hunt.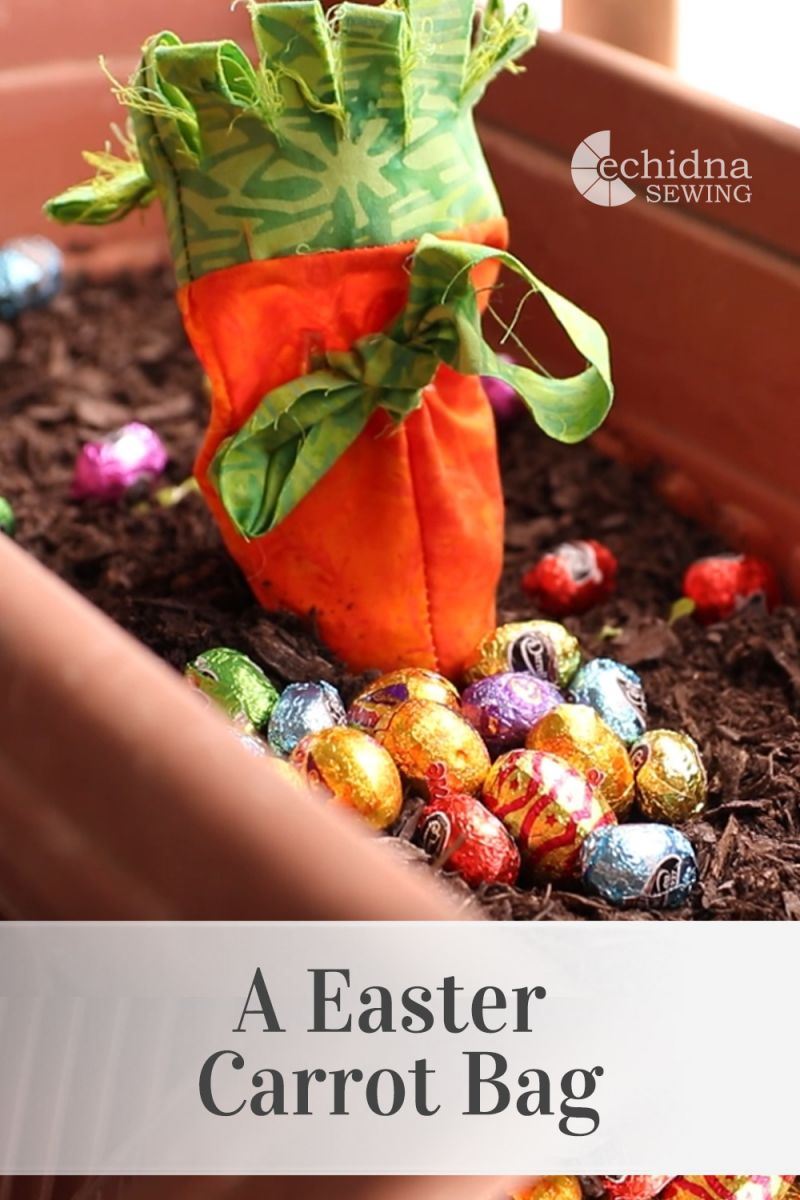 ---
Leave a comment