Lynktec Apex Fusion Active Stylus
All prices are in Australian Dollars
New!
Pay in 4
4 payments of $17.49

4 payments of $17.49
Own it now, pay later
Do you struggle using your finger when navigating LCD screens or smart devices? The Lynktec Apex Fusion Stylus is the perfect solution for more accurate and pinpoint navigation on touch screens, like on your embroidery machine.
Experience precision writing, selecting, drawing, erasing, and more with the smooth, natural glide of this fiber tip stylus. It's constructed with quality brass and anodized aluminium with a built-in rechargeable battery, replaceable fiber nib, and a handy pocket clip. It can be used on any iOS device and most other touch screens without needing to connect to Bluetooth. Giving you better control and ease of use, this tool will make your creating more productive and enjoyable.
Truglide tip technology
Patented durable fiber polymer tip glides smoothly for a natural feel.
No bluetooth required
Great for use on most touch screens and note-taking apps without common Bluetooth connectivity delays.
Built-in rechargeable battery
Integrated lithium ion battery can be recharged over 500 times.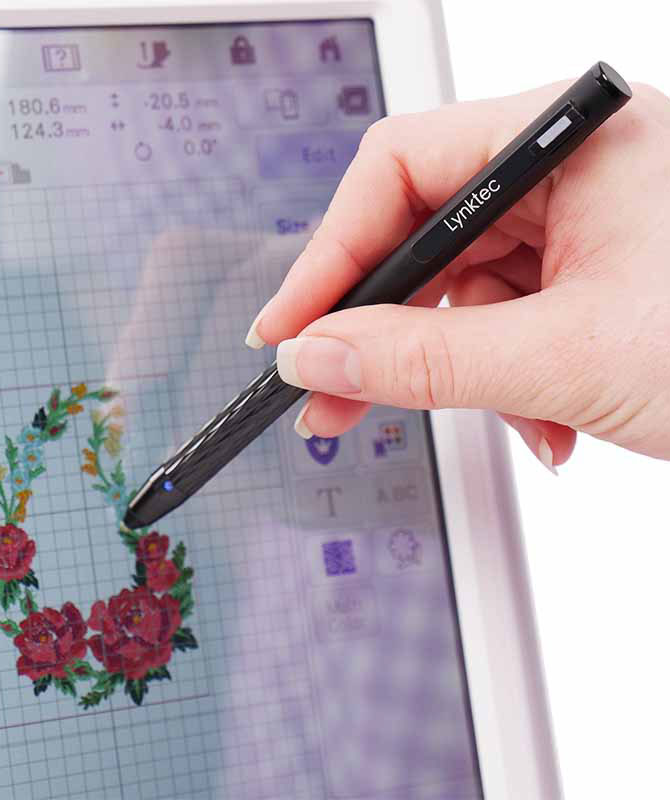 Power saving circuit
Automatically powers off after 30 minutes to conserve power and extend battery life.
Works with IOS and Android
Compatible with all iPads, iPhones and many popular Android devices.
Stylus colour provided at random.
SKU: L-ApexStylus
Barcode: 856193008022
Lynktec Stylus

By: Jenny on 6 September 2019

I like the fine point as it gives greater accuracy when drawing and erasing lines in My Design Studio . It is a n easy tool to use especially when designing and the fact it turns itself off saving the battery life is very helpful ( I often get so involved with what I'm stitching I forget to turn it off!) Overall a great addition to the Luminaire XP1
(4)