Hemingworth Storage Cabinet with Drawers - Holds 315 Spools
Threads not included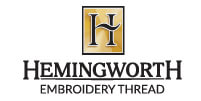 Free shipping (incl. insurance) Australia-wide
All prices are in Australian Dollars
New!
Pay in 4
4 payments of $187.25
4 payments of $187.25
Own it now, pay later
Thread Storage Cabinet – holds 315 spools (comes empty – threads not included) with easy slide out drawers ... suits most brands of thread.

One of the secrets to achieving beautiful embroidery is using a quality thread. Once you've selected a brand, the next challenge is having a good selection of colours in a range of shades. The problem is – how do you store and easily access a range of around 300 spools, such as Hemingworth?
In partnership with the Hemingworth manufacturing engineers we have designed a unique, space-efficient storage and display stand which is ideal for any sewing room. Take a look at the impressive list of design features.
Compact size 40 cm deep x 60 cm wide x 78 cm high
Holds 315 Hemingworth or similarly sized spools
Quality laminated white maple finish
Easy slide out drawers with metal runners
Simple and secure wall mount option included
Designed for stacking if you decide to opt for two or more, with pre-drilled dowel holes
Supplied with Hemingworth drawer labels for easy and fast colour selection
---
Easy to Assemble
The cabinet is provided flat-packed with all the required parts included. Screw holes are pre-drilled for easy, accurate assembly. You can assemble the cabinet together by hand, but an electric screwdriver makes the process easier.
SKU: HTDS63
Should have bought it sooner

By: Chris on 21 March 2022

Seriously, if you are a thread junkie like me, you need to get this cabinet. All my hemingworth threads are now easier to find along with others that fill the extra spaces. Am in the process of building a stand and storage cupboard for this and all my stablisers, mylar, pleather etc. Really should have bout it sooner. Frustration all gone. Happy happy embroiderer.
(5)
Wow! Fabulous thread stand

By: Patricia on 23 October 2020

love, Love Love it, makes it so easy to find all the colors I need for a project
(5)
Thread storage

By: Cheryl on 24 June 2020

Very study product. Looks great and makes it so easy to find the correct thread for your project.
(5)