Durkee Embroidery Square Hoop - 24cm x 24cm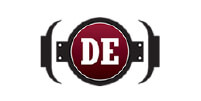 All prices are in Australian Dollars
New!
Pay in 4
4 payments of $22.49
4 payments of $22.49
Own it now, pay later
Durkee, 24 cm x 24 cm (9" x 9") square hoop. Suitable for Brother PR series multi-needle embroidery machines.
Ideal to use for: cuffs, collars, pockets, hat sides.
Important note: DE Hoops are not genuine Brother hoops and are not recognized by the machine hoop sensor. Care must be taken to trace your design before stitching to avoid the needle coming into contact with the hoop (this is standard practice on most other commercial embroidery machines). Additionally, the sizes shown are actual hoop size, the embroidery area will be smaller than the hoop size. Any damage caused due to the failure of the operator to observe the appropriate precautions will not be covered under warranty.
To find out more, watch the Durkee Hoops videos here.
SKU: DEHOOP-24X24
Durkee Embroidery Square Hoop 24cmx24cm

By: Denise on 13 February 2020

this hoop is good i'm using this on a Brother PR1050X as I was a little worried about hitting the needles I told the machine this was a smaller hoop but all up my projects have worked with this hoop works great
(5)