Towa Digital Tension Gauge
All prices are in Australian Dollars
New!
Pay in 4
4 payments of $49.75

4 payments of $49.75
Own it now, pay later
Measure thread tension with ease using the Towa Digital Tension Gauge
The digital tension gauge is the perfect way to measure bobbin tension on both commercial and domestic style embroidery machines, and needle tension on commercial machines. Also ideal for Long arm quilting machines with the Optional M Style Bobbin Case Adapter
With a precise LED read out feature and an easy to use process, it's a must have for any embroiderer. It provides increased accuracy and consistent tension in a compact, battery operated design. With interchangeable inserts it allows you to use all types of bobbin cases.
This handy gadget will be your lifesaver when setting and measuring your bobbin tension, and will help give you a better embroidery result overall.
Includes free adapter for Brother home style machines (does not include M Style adapter - this is an optional accessory). Bobbin cases not included.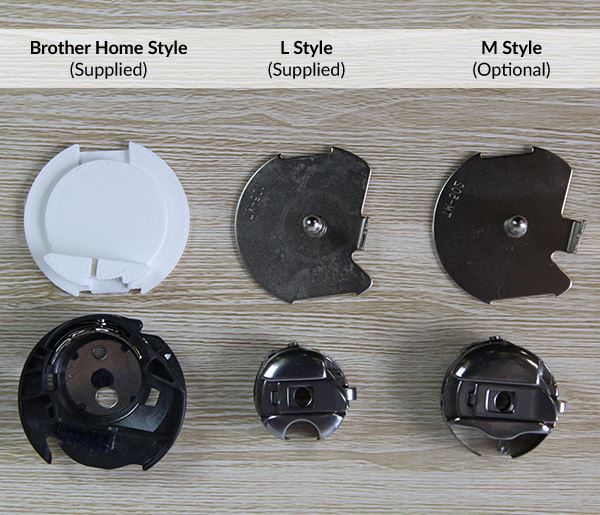 ---
In the below videos Gary demonstrates how to use the electronic tension gauge that is perfect for measuring bobbin tension. With a precise LED read out and easy to use process, this tension gauge is a must have for any embroiderer. Use the Towa Digital Tension Gauge on any commercial or home machine.
Using the Towa tension gauge on a home machine
Using the Towa tension gauge on a PR series
Gary's Tip
Having the correct bobbin tension is probably the most important requirement to achieve a wellbalanced stitch. Machines of almost every brand allow the user to adjust the tension with a screw in the bobbin case. Different brands of bobbin thread can result in different tensions so it's important to check and adjust as necessary. This tension gauge makes it easy to measure your bobbin tension and set it to the ideal range of 30- 40 grams.
Remember when adjusting your bobbin tension screw to only ever turn 1/4 turn at a time. Turn the screw right (clockwise) to tighten or increase the tension and left (anti-clockwise) to loosen the tension.
Remember to turn right to tighten and turb left to loosen.
Measure the tension after adjusting and if necessary repeat the process until between 30 & 40 grams of tension is achieved. Use these stitched letter "F" images as a guide for what would be an acceptable result.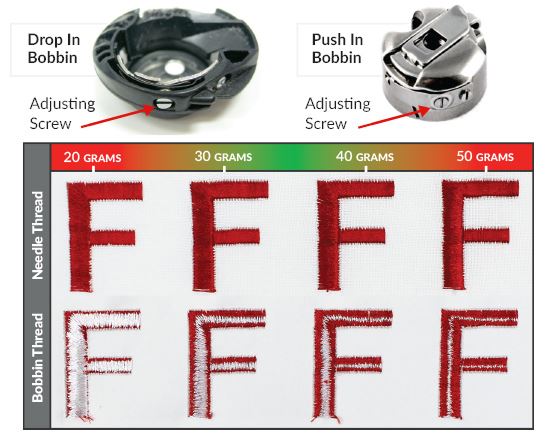 SKU: DTM-A1
Towa Digital Tension Gauge (DTM-A1)

By: Anne on 22 November 2021

This device works perfectly. It is precise and easy to use. I am very satisfied to be able to easily correct the thread tension of my Brother embroidery machine thanks to the new adapter for the Towa electronic tension gauge
(5)
Towa DigitalTension Gauge

By: John on 23 February 2021

Up until this purchase I have been using a spiring weighing gauge that I purchased at a seminar at St Mary's College long time ago when it was demonstrated. The Town is a much refined gauge to be using to check the bobbin tension. a big improvement. I hadn't used a gauge for some time but neither of my two machines needed any adjustment but its good to have the technology available if needed. Easy to follow instruction and video makes it a pleasure to use..
(5)
Towa Digital Tension Gauge

By: CANDACE on 6 February 2021

Thank you for sharing this pretty nifty tool! It is very helpful!
(4)
More From This Category