What is Applique?
Author: Ella Holmes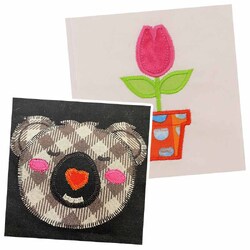 Applique is a technique used to attach pieces of fabric to a larger piece of fabric in order to form a complete picture or pattern. You've likely seen applique a lot in passing. It's commonly applied to things like jackets, cushions, and bags, as well as in patchwork and quilting projects.
Common fabrics used for applique include cotton, linen, and felt. It can be simple, complex, elegant, abstract, or something in between. You have a lot of creative freedom!
Let's go over the main methods:
Needle Turn Applique
Shapes (including a seam allowance) are cut from fabric and pinned to the background. Quilters use the end of a sharp needle to turn under the seam allowance of each piece as they sew the pieces in place with a blind stitch.
Fused Applique
The process of only using fusible webbing to attach the shapes to the fabric. You draw your shape onto the paper side of the fusible webbing, iron it to your chosen fabric with the glue side down, then cut your shape out. Once cut, and the fabric and webbing are well–fused together, you peel the paper off and then iron your shape where you want it.
Hand Applique
This method means you use fusible web to glue your shapes down before stitching the outline by hand. It's good for that extra personal touch or sewing areas and shapes that a machine might struggle with.
Machine Applique
Using a machine to stitch the outline. This method is good for when you want to use more decorative stitches, or complete your applique projects quicker than you could by hand.
In the hoop Applique
In-the-hoop applique designs are complete projects done on an embroidery machine, using an embroidery hoop. You choose an embroidery applique file, and the machine stitches a placement stitch, a tack-down stitch, and then the outline stitch (such as a satin stitch). You place your fabric and trim edges when needed.
---
Tools needed for applique differ for each method and project. Here are some general tools you might need:
Scissors
Fusible Web
Needles (for hand sewing)
Sewing Machine (for machine stitching)
Thread
Iron
Fabric Markers (for tracing on fabric)
Stabilizer
So now that you know a bit more about applique, why should you do it? Applique is a great sit-down, hands-on activity, and is a great alternative to embroidery if you don't own an embroidery machine. Depending on what method you choose, it can even be a nice and relaxing on-the-couch activity.
Looking for an applique project to start?
Check out our Echidna Applique Designs →