Merrylock 6pc Overlock Feet Set for MK480
All prices are in Australian Dollars
New!
Pay in 4
4 payments of $24.75
4 payments of $24.75
Own it now, pay later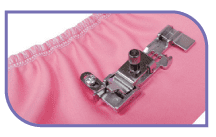 Elastic Foot
The Elastic Foot guides and stretches narrow elastic (6-12mm, 1/4~1/2") for lingerie and other elastic insertion techniques.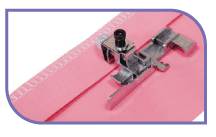 Blind Hem & Lace Foot
The Blind Hem Foot is perfect for sewing invisible hems and for applying lace. The hem is sewn, overcast and trimmed in one step.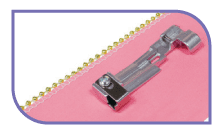 Beading Foot
The Beading Foot smoothly guides beads and pearls through a channel on the foot for any application on garments or crafts.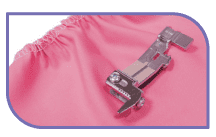 Shirring Foot
The Shirring Foot easily makes and attaches shirring in one step to garments, pillows, and other home decorative items with this shirring foot.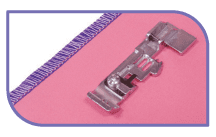 Taping Foot
The Taping Foot is used to apply seam tapes to seams to prevent stretching. It is especially good for stabilizing shoulder seams. With this foot you can reinforce and construct seams in one step.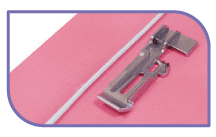 Cording/Piping Foot
The Piping Foot is perfect for inserting packaged piping into seams and on edges for a tailored finish. The trim is sewn between the two layers of fabric in one step. A groove under the foot helps guide the piping. You can also create your own piping for a custom finish.
SKU: MK5100H010A
Merrylock 6pc Overlocker feet set for MK480

By: Yvonne on 1 September 2020

Another great addition to have this feet set.
(5)
Merrylock 6pc Overlicker feet set for MK480

By: Yvonne on 1 September 2020

Another great addition to have this feet set.
(5)