Colour Block Clothing
Date Posted:12 October 2021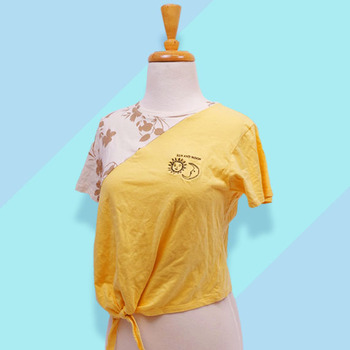 Colour block clothing and matching opposite pieces are becoming more and more popular. This simple sewing project is a great starting point to understand how clothing works and understanding simple stitches, while creating a trendy colour block item! Plus, you can find any items of clothing at op shops or second hand from a friend, you don't need to go out and buy new pieces for this project.
You can do this project with any type of clothing including pants, shirts, skirts, hoodies, etc. You'll need to make sure the items of clothing are the same size and same type of clothing, so that It's easier to sew together, e.g. having a size 8 shirt and a size 12 shirt would be difficult as one would be too big for the other and would not achieve the desired effect. My personal favourite item of clothing to use is hoodies! They work really well and can be a little oversized if you're making a matching pair for you and a friend or partner.
Don't forget to show us your finished projects on Instagram or Facebook #echidnasewing #madebyme
Machines Used
Brother NV50S Sewing Machine
---
What you'll need:
Two pieces of clothing (same type and size)
Ruler (a large one, or use something straight that's bigger)
Tailor's chalk or washable pen
Pins
Sewing machine
Thread in your colour choice
Scissors
Overlocker (optional)
Tip:
Don't have an overlocker? Use a built-in zig zag stitch on your machine to finish off the edges to stop the fabric from fraying.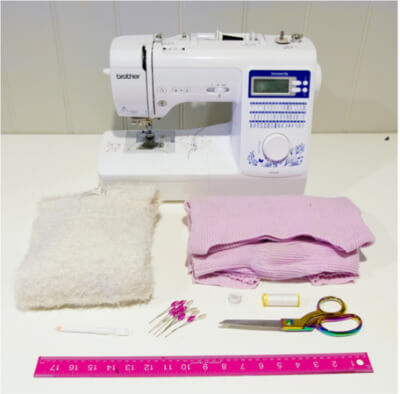 Instructions:
1. Start by placing your first jumper down on a flat surface and making sure all creases are flattened out (it might be a good idea to iron the jumpers first). Then, figure out where you want to split the jumper in half, I recommend splitting it on a diagonal from the shoulder, to somewhere along the side hem. Use your ruler and tailor's chalk (or pins as we've done here) to map out a straight line where you want to cut. Cut across the line and set aside the half you don't want to use.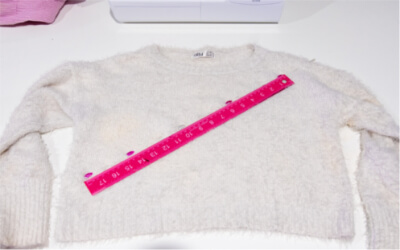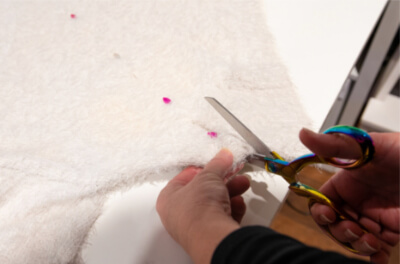 2. Take your second jumper and place it on your flat surface. Position your first cut piece on top of your second jumper. Match up the jumpers as close as possible and cut the second jumper along the cut of the first jumper. Set aside the piece you don't want to use.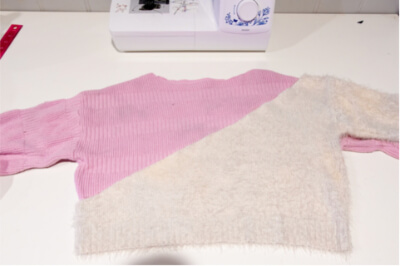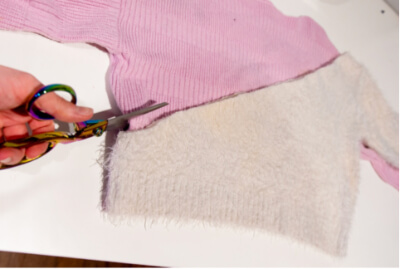 3. Turn both pieces inside out with right sides together and then line up the cut edges, matching the shoulder and side seams together. Pin.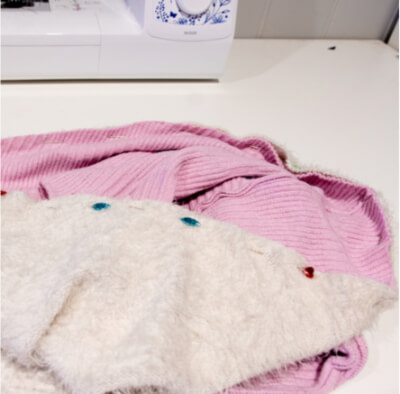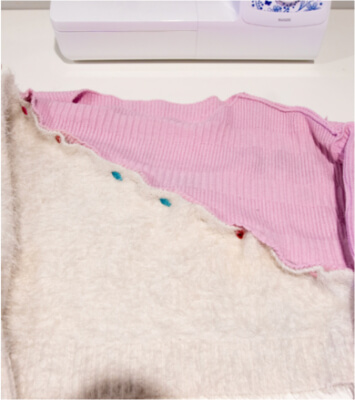 4. Place your shirt into your sewing machine. It doesn't matter too much where you start, as you won't see the stitching or the seam. Sew 1cm from the edge the whole way around the item. Make sure you reverse stitch at the end so your thread doesn't fray or come apart.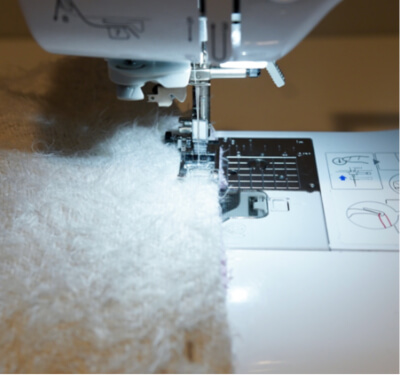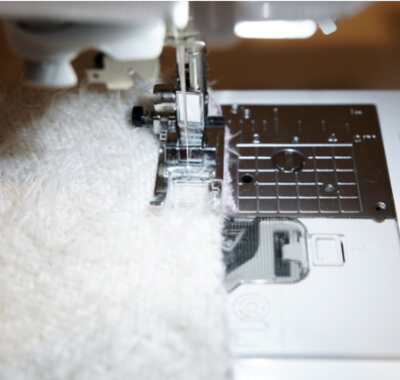 5. Either trim the edge with your scissors and zig-zag stitch around the edge, or overlock the edge close to the straight stitch.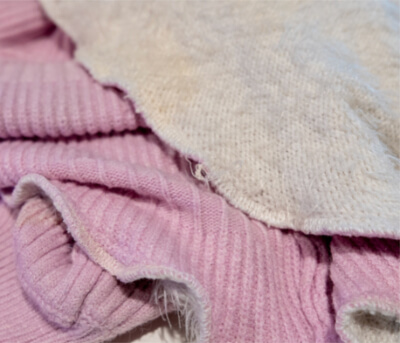 6. You can then turn your project the right way out, and iron down those seams (After overlocking, the seams tend to get a bit fluted, so ironing them just helps the seams to sit better).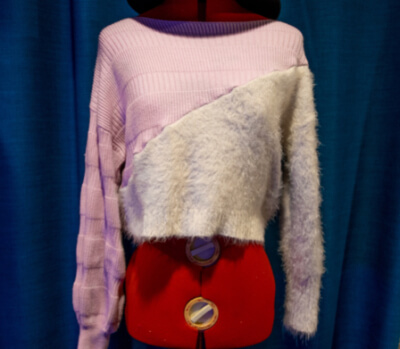 7. You're done! Now you can repeat this process for the other pieces you cut from these garments so you can gift it to your partner or a friend! (or keep for yourself!)
This is a super easy project for anyone to do, you can even hand stitch it if you don't have a sewing machine. Just make sure it's very secure as you don't want your stitching coming undone while you're out and about!
If you're a beginner, I'd avoid cutting anything with a zip (unless you know how to take out and attach zips), but get creative! This project is super easy with pretty much all types of clothing, sweatpants, hoodies, crop tops, etc!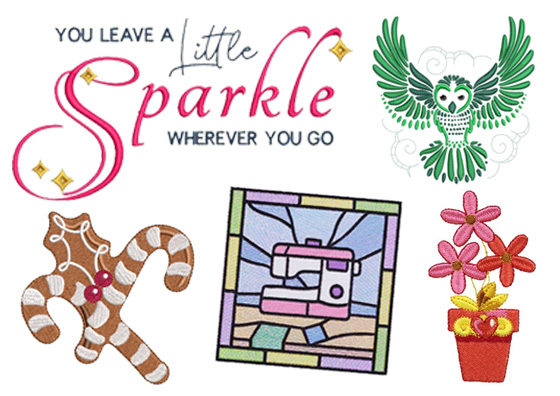 Free Embroidery Designs
We're excited to offer our free Echidna designs available for download. These free designs are perfect for those at a beginner or an advanced level. Add these designs to your stash and create incredible embroidery!

View all free designs >
Sewing, Quilting and Embroidery Machines
Interested in learning how to sew, quilt or embroider? Take a look at the innovative Brother machines available for purchase at Echidna Sewing. Wherever possible we will beat any deal and you will always receive ongoing service and support!

Find out more >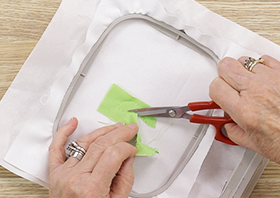 Learn to Sew or Embroider with Echidna Sewing
Come along to our fun-filled classes to learn more about sewing, embroidery and crafting. Classes cater for all skill levels, whether you're just starting out or already have advanced knowledge.

Find out more >
Echidna project material/ fabric requirements are an indication only and can seem to be generous. This has been intentional. Should you make a cutting or embroidery mistake you will have sufficient fabric to rectify your error.
---
Leave a comment