Festive bunting inspired by Australia Day

Need some decorations for your Australia Day celebrations?
Create the ultimate Australia Day with our Aussie inspired ScanNCut decorative bunting. Perfect to hang around the house, pool or camping tent to capture a true Australian theme!
Easily create a decorative bunting using the Brother ScanNCut.
FREE Australia day SCANNCUT DESIGNs

Download the files for this project
These include:
ScanNCut File (.fcm)
ScanNCut CanvasWorkspace file (.svg)
What you Need
Any model of the Brother ScanNCut
Your Standard 12″ x 12″ ScanNCut Mat (suitable for your model)
Your Standard ScanNCut Blade (suitable for your model)
Green, yellow, red and blue sheets of 12″ x 12″ scrapbooking card or A4 card (how many depends on how long you wish to make the bunting)
A roll of string (required length depends on how long you wish to make the bunting)
Choose your variations
We have provided four Australian based designs to use on your Australia Day bunting.
We suggest you choose your desired layout and colour variations before proceeding; this will help you identify which designs you want to cut out in which colour. We have provided 4 variations below otherwise we would love to see your own.
RED AND BLUE


Green AND gold/yellow


HOW TO MAKE AN AUSTRALIA DAY BUNTING
Step 1: You can either download the ScanNCut files (.fcm) and save this onto a USB to plug directly into your ScanNCut machine or download the ScanNCut CanvasWorkspace file (.svg) which will allow you to alter the design online and send it to your machine via Wireless.
Step 2: Install the Standard ScanNCut Blade into your ScanNCut by following the steps outlined in your machines quick reference guide.
Step 3: Place your scrapbooking card onto a Standard Mat making sure it sticks well. You can use some 505 spray directly to the media and then place it onto your mat to ensure that it sticks properly. The last thing you want is your media moving when it's cutting out your design.
Step 4: Load the mat into the ScanNCut by following the steps outlined in your machines quick reference guide (remember to hold the mat level while loading)
Step 5: Load the design from either the USB or via CanvasWorkspace using your Wireless connection depending on which method you selected in Step 1. Do a scan of the mat to ensure that the design does not go over the edge and allows room for your test cut.
Step 6: (SDX owners may jump to step 7 unless you are using an unfamiliar medium). For all other ScanNCut models don't forget to do a test cut! Cutting a small hole in the corner of your mat is a lot less upsetting than cutting a large design straight through your mat.
On my main screen choose the 'test' button. We usually use the 'square' test and place it in the top left-hand side corner of my mat. Referring to the ScanNCut Educational Binder that came with the ScanNCut machine, the cheat sheet on machine settings found on page 9 is very useful. If you have to, do a few test cuts to ensure you have the correct blade
settings before moving onto the next step.
Step 7: Once you have the design lined up on the media, choose the 'cut' option and select 'Start' or press play to cut out your design.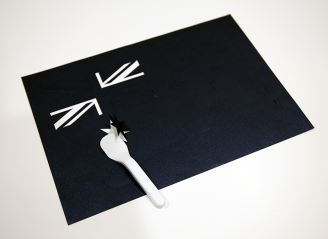 Step 8: Once the machine has completed cutting the design, unload the mat from the ScanNCut and gently peel off the card.
Hint: Fit multiple of the same design on one piece of card and cut them out at the same time.
Step 9: Lay out all your cut out designs in the order you wish to display them in.
Step 10: Cut your piece of string to the desired length. We recommend spacing the designs approximately 15-25cm apart so that they do not get tangled with each other.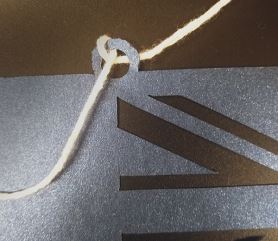 Step 11: Feed the string through the hole cut out at the top of the first design loop it around and feed it through the hole again so that it locks the design in place (as pictured to the right)
Step 12: Measure roughly 15-25cm and repeat Step 11 with the next design until your bunting as reached the desired length.
Step 13: Hang your bunting from the wall, you can easily do this with wall hooks or Blu Tack.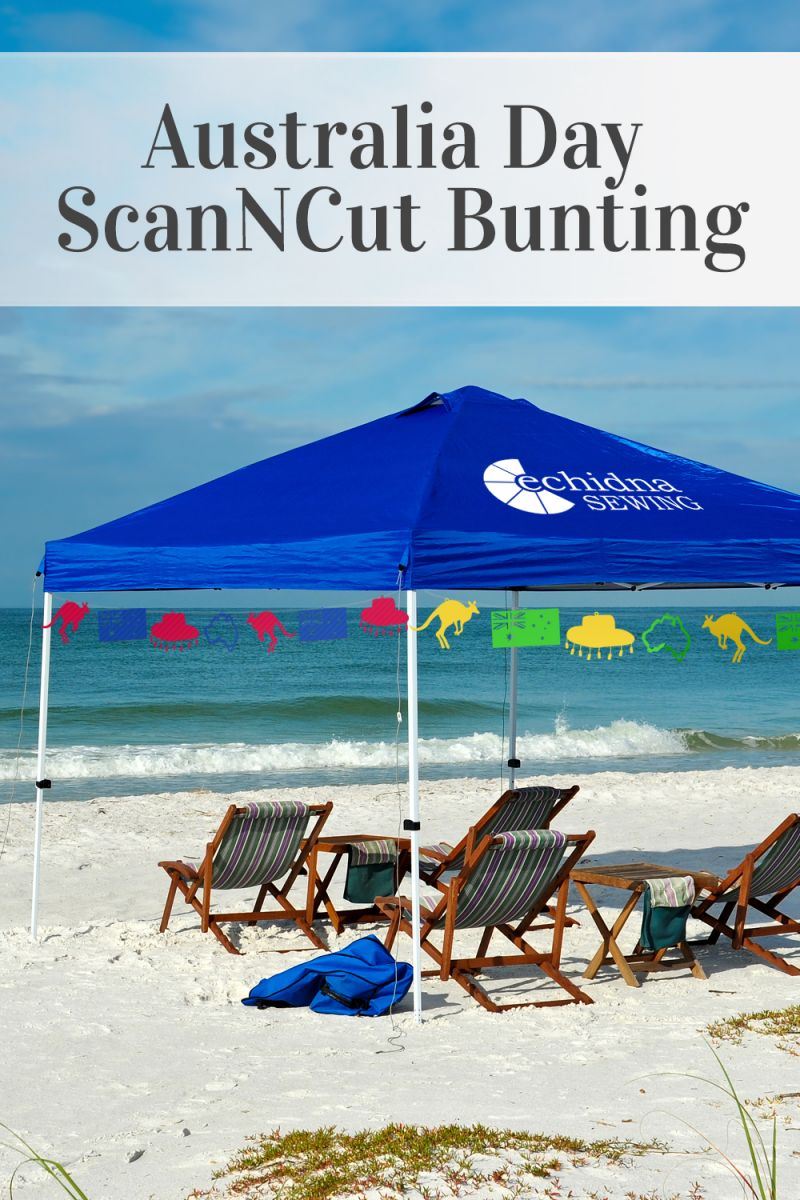 ---
Leave a comment