All prices are in Australian Dollars
Are you a craft enthusiast who loves all things sewing? These free designs are the perfect addition to your design stash! We'll be adding more designs over time so be sure to come back and grab them all.

Embellish your projects with these fun stitch quotes and express your passion for sewing. They're great for decorating items around your craft room, or adding to a gift if you know someone who also loves crafts!
Designs included:
"Good things come to those who create"
"Watch out, I've got scissors"
"Feeling low? Time to sew"
"The future belongs to those who sew"
"Too much fabric is an oxymoron, and I'm not silly!"
"Forecast: 100% chance of stitching"
"May your bobbins be full and your tension perfect"
"Master of Stitchcraft"
"I see UFOs all the time (in my craft room)"
"When life blocks you, make a patchwork quilt"
"I didn't buy more fabric, I saved it from the store!"
"I stitch, therefore I am"
Available in three sizes (approx):
94mm x 96mm
125mm x 128mm
170mm x 175mm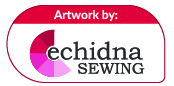 Formats include: pes, dst, emd, exp, hus, jef, emb, vip, vp3, xxx
Please note: These designs are available as DOWNLOAD ONLY – they are not supplied on a CD. The download file contains all formats listed plus a PDF file of suggested colours.
These designs were digitized with Hatch Embroidery Software.
Artwork by Ella Holmes.