Turn a photograph into embroidery
Can I turn a photo into embroidery?
This is the single most popular question we've been asked since embroidery software first became available to home hobbyists in the mid-1990's. The answer has always been, 'Well, yes but not really that successfully'... that is, until Brother created their industry leading PE DESIGN software with PhotoStitch™ technology!
Now with the Brother award winning PE DESIGN software, high quality PhotoStitch results are within everyone's reach. It is so easy to do and the software is more affordable than ever before.
Embroidered photographs
The image below is an actual example of a photograph embroidered using PE DESIGN PhotoStitch technology, which you can see in the Exhibitors Hall. Stitched on a Brother PR1000 using the Jumbo Hoop, it uses 16 thread colours and has about 180,000 stitches, measuring 330mm x 250mm. Yes, there is a split in the middle! But you would never notice it unless you looked very closely.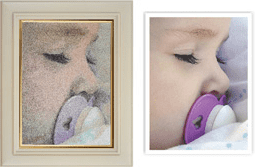 In 2017 we again got to experience sheer amazement thanks of PhotoStitch technology after Brother stitched out a photo of Echidna Sewing owners Gary and Cindy Walker at nearly life-sized dimensions for their 30th wedding anniversary!
The 40x65cm embroidered portrait (shown below) was stitched on a Brother PR series embroidery machine using the very same PhotoStitch technology available in PE DESIGN software. Despite the incredible detail, it's surprisingly easy to do yourself on any Brother embroidery machine. This gift from Brother now hangs proudly in our head office and is truly a treasured piece. Thanks Brother!
So, how easy is it? Can you do it at home?
We have had non-sewers approach us at craft shows asking how much it would cost create them similar art pieces of their special loved ones. They've been quite prepared to pay hundreds of dollars for the service. We're always thrilled to explain that the original stitch file was automatically digitized in PE Design software using Brother's PhotoStitch technology (and that to create files larger than 300mm x 200mm they'd just need the PE DESIGN NEXT version).
We've come so far that today, just about anyone can create truly amazing PhotoStitch embroideries.