Needle Coatings Explained
Author: Gary Walker Date Posted:15 April 2022
To most people a sewing machine needle is just a sewing machine needle but there are many differences to consider, most notably point type and size. However in recent years, there has been more of a focus on understanding the needle's coating.
There are four common coatings which are applied to needles during the manufacturing process: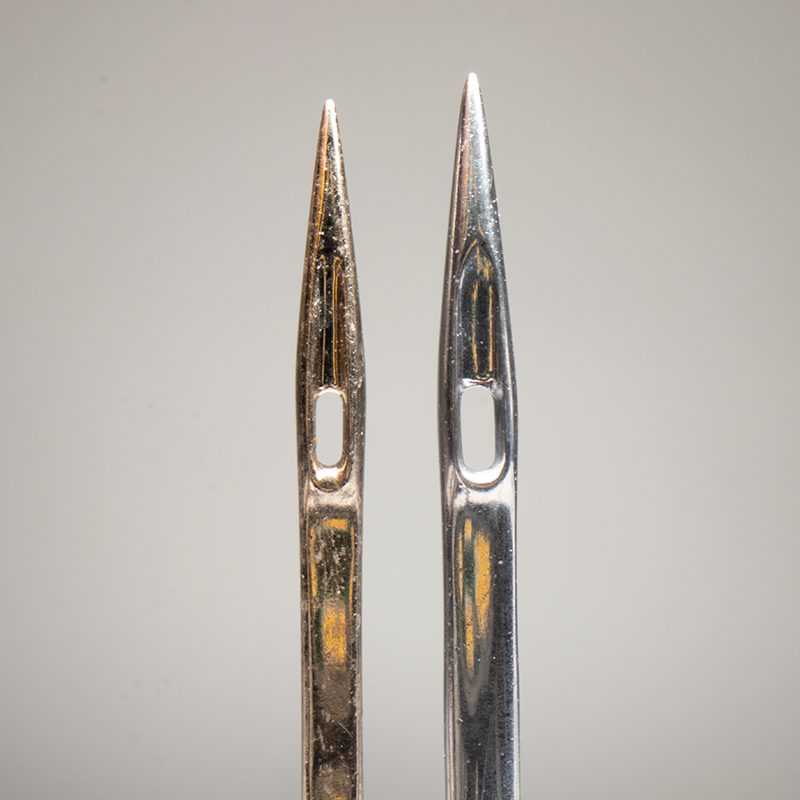 Nickel vs Chrome
Nickel Plating
Nickel plating has been around since the mid 1800's and is still the most used plating on sewing machine needles. It is the least expensive coating and helps prevent corrosion, improves smoothness, while providing slight increase in the hardness of the needle. Nickel plated needles have a slightly yellow steel tinge in colour.
---
Hard Chrome Plating
Hard chrome plating provides a durable finish and a higher hardness level to the needle. This results in longer needle life and creates less friction than nickel plating, whilst also preventing corrosion. This will often translate into better stitching performance and less needle changes. Chrome plated needles have a bright silvery blue tinge in colour and are generally priced a little higher than Nickel plated needles.
---
Titanium Coated
Titanium coated needles have a higher hardness level than Chrome plating providing good longevity, although the price is often considerably higher. They do produce slightly higher friction levels than chrome plated needles, which can lead to stitching inconsistency in some applications. Titanium needles typically have a soft, gold tinge to their colouring.
---
Ceramic Coated
Ceramic coated needles also offer a very high hardness level but the lowest level of friction resulting in less needle heat. Put simply, this translates into less static electricity and less potential for needle contamination from adhesive stabilizers and synthetic fibres with a low melt point. Ceramic coated needles will have a shiny silver appearance.
Consider this...
Thread travels through the eye of the needle roughly 30 times under tension and at high speed before actually being stitched. There really is no question as to why using an excellent quality needle is very important.
So what does all this mean? Firstly, any of the above coatings will do a great job provided the quality of the needle is up to standard. Quality brands like Schmetz, TNC or Organ will work well in all situations.
For best value results, TNC needles are all hard chrome plated which is a distinct advantage over traditional nickel plated needles. They provide the perfect balance of performance and value.