Imperial to Metric Conversion Guide
Date Posted:17 July 2022
Don't you just hate having to convert pattern and design directions from imperial to metric, and vice versa?
Don't worry, we at Echidna have made it easy! We've created a handy print-out chart of the most common sewing and quilting size conversions for you to refer to.
Seam Allowances
The term "seam allowance" refers to the area between the stitching and the raw edge of the fabric. Most patterns call for a specific size allowance. Without it, your fabric pieces may not line up correctly, or you may find you don't have enough fabric.
| | |
| --- | --- |
| ¼" | 6mm |
| ⅜" | 10mm |
| ½" | 12mm |
| ⅝" | 16mm |
| ¾" | 19mm |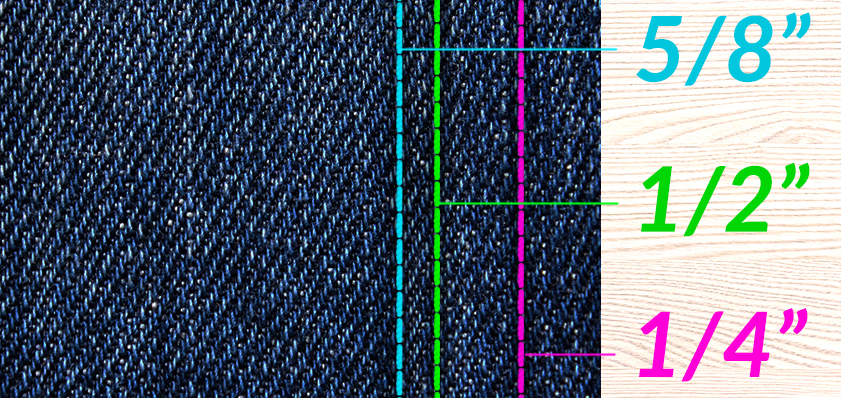 Pre-Cut Fabric Sizes
You've heard of "Fat Quarters", just one example of pre-cut fabric, but what size is it? Pre-cut fabric comes in all different shapes and sizes depending on the requirements of your project.
| | | |
| --- | --- | --- |
| Fat Quarter (AU) | 19" x 21" | 50cm x 55cm |
| Fat Quarter (USA) | 18" x 22" | 45cm x 55cm |
| Fat Eighth | 9" x 22" | 22.5cm x 55cm |
| Layer Cakes | 10" x 10" | 25.4cm x 25.4cm |
| Jelly Roll | 2.5" x 44" | 6.35cm x 112cm |
| Charm | 5" x 5" | 12.75cm x 12.75cm |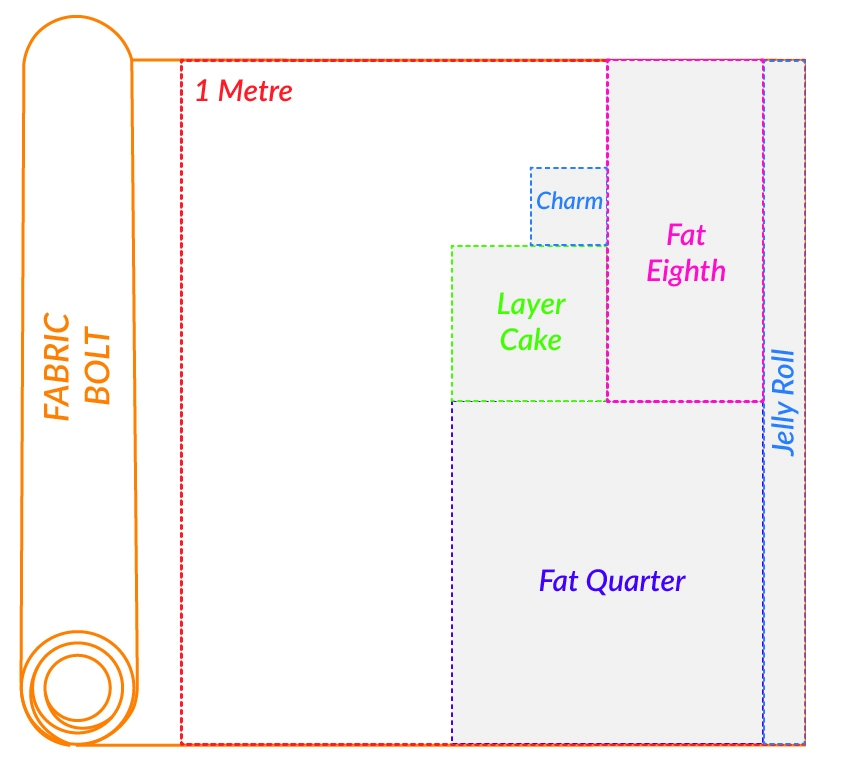 Inches to Millimeters/Centimeter
| | |
| --- | --- |
| ⅛" | 3mm |
| ¼" | 6mm |
| ⅓" | 8mm |
| ⅜" | 10mm |
| ½" | 12mm |
| ⅝" | 16mm |
| ⅔" | 17mm |
| ¾" | 19mm |
| 1" | 2.5cm |
| 1¼" | 3.2cm |
| 1½" | 3.8cm |
| 1¾" | 4.4cm |
| 2" | 5.1cm |
| 2¼" | 5.7cm |
| 2½" | 6.4cm |
| 2¾" | 7.0cm |
| 3" | 7.6cm |
| 3¼" | 8.25cm |
| 3½" | 8.9cm |
| 4" | 10.2cm |
| 4½" | 11.4cm |
| 5" | 12.7cm |
| 5½" | 14cm |
| 6" | 15.2cm |
| 7" | 17.8cm |
| 8" | 20.3cm |
| 9" | 22.9cm |
| 10" | 25.4cm |
| 11" | 28cm |
| 12" | 30.5cm |
Yards to Centimeter
| | |
| --- | --- |
| ⅛ yard | 11.4cm |
| ¼ yard | 22.9cm |
| ⅓ yard | 30.5cm |
| ⅜ yard | 34.3cm |
| ½ yard | 45.7cm |
| ⅝ yard | 57.2cm |
| ⅔ yard | 61cm |
| ¾ yard | 68.6cm |
| 1 yard | 91.4cm |
| 1¼ yard | 114.3cm |
| 1½ yard | 137.2cm |
| 1¾ yard | 160cm |
| 2 yards | 182.9cm |
| 2¼ yards | 205.7cm |
| 2½ yards | 228.6cm |
| 2¾ yards | 251.5cm |
| 3 yards | 274.3cm |
| 3½ yards | 320cm |
| 4 yards | 365.8cm |