Design Registration
Date Posted:17 November 2020
Aside from thread breakage, design registration (outlines that don't line up) is the issue that is most commonly asked about.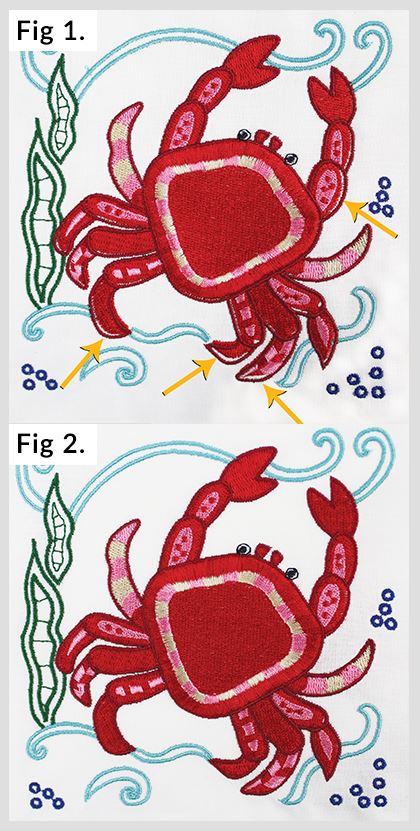 This article will give you a tried and proven solution to what is an easily fixed problem, but there are some things that need to be addressed first. For example, a badly digitized design will almost always give a bad embroidery result, and when it comes to outline registration it's even more noticeable.
Let's assume you have a good design like this simple crab from our Sea Life Blocks 1 (ED-SLB1) range. It's quite a large design with a stitch count of 29,000. The photos to the right are of the same design stitched on the same machine using the same threads, needle, hoop, and tension settings. The only difference is in the stabilizer and hooping technique. Note the yellow arrows pointing to the poorly stitched outlines on Fig 1 yet there are no such issues on Fig 2. It's not severe and you have probably seen far worse, but it can be easily avoided.
Why has it happened? Consider stitching this 29,000 stitch design. Logic says that the seaweed, the swirls and the body of the crab need to stitch prior to the fine satin stitch outline on the crab. In fact, there are 20,521 stitches before the outline even starts stitching. Pull and push on the fabric is extreme and of course varies depending on the type of fabric and stabilizers in use. The truth is, the outline has stitched exactly in the same position in both samples but there has been fabric pull or movement on Fig 1 and none on Fig 2.
The machine is not at fault, nor is the design. It is entirely hooping technique and stabilizer selection.
The sample in Fig 1 was stitched using a medium commercial-grade cutaway hooped with the fabric. It's an incredibly stable product but didn't prevent the fabric slippage or pull.
The sample in Fig 2 had a layer of Echidna Fusible Softaway and a layer of our standard Softaway all hooped together, plus one of our favourite hooping tips...
Apply 6mm of double-sided tape around the perimeter of the inner hoop ring and remove the backing paper. The thin tape provides the perfect grip without bulk to prevent any fabric slippage and is easily applied and removed. Conveniently, one application can be used for up to 10 hoopings. Be sure to use only the 6mm acid and solvent free clear tape.
It's available from Echidna in a 50 metre roll. Don't use the commercial yellow embroidery tape as it's too tacky for this type of application. Double-sided tape is easy to apply and when combined with our fusible Softaway, ensures outstanding results regardless of what you're stitching.
The secret to Echidna Softaway is the wet-laid blend of polyester and natural fibres that tear easily without perforating like many tearaway stabilizers. Softaway is soft yet stable and allows easy removal from completed designs. Fusible Softaway can even be successfully applied on knits and when combined with an appropriate cutaway gives an amazing result. In fact, Softaway is perfect in most applications. That's why it is our most popular embroidery stabilizer.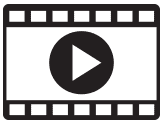 There is always a lot of talk about hooping technique and different types of hoops. In our experience, perfect results are achieved by using standard hoops, quality stabilizers and good technique.
We have an excellent video on this topic available here →