Hoot owl bib
Date Posted:21 November 2017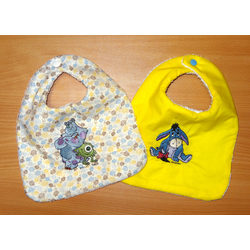 This cute little appliqué owl pattern is free on Craftsy! Download it to create your own owl bib to spice up dinner time. Otherwise you can use the pattern and change it up by embroidering your favourite design instead.
How to make
Visit Craftsy to download you Hoot Owl Bib Pattern tutorial. If you are not a member of craftsy simply sign up (it's free) and then you can download this free Hoot Owl Baby Bib pattern.
Tip
If you choose to embroider your own design make sure to embroider your fabric before you cut out the pattern.
Project Photos
Disney Bibs – Can be embroidered using our Brother Disney Embroidery Machines.
Share your project!

Once you have completed your project we would love for you to share your photos with us! Like us on any of the social media networks below and simply hashtag #echidnaclub with your photo. Otherwise feel free to post to our Facebook wall with your project photo.

Don't forget you call also upload your projects to Craftsy for others to see!