Christmas stocking
Date Posted:10 December 2017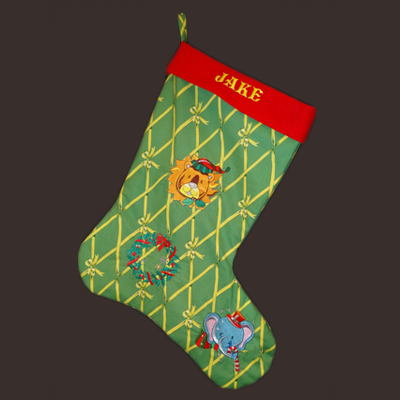 A basic old style stocking pattern. The fabric you choose will determine the end style and flare of your Christmas stockings. You can choose to use and embroider the cute little pocket, as well as the cuff or simply just embroider the stocking on it's own.
Steps to complete this project
This project was completed using the Brother XE DreamMaker VE2200 Embroidery Machine where I used the Christmas wreath (built-in embroidery design), the Christmas Cuties Lion and the Christmas Cuties Elephant. The text was created using the built-in embroidery text options.
We encourage you to take a look at your built-in embroidery designs that come included with all Brother Embroidery machines to see what Christmas designs you have available.
To complete this stocking:
Christmas embroidery designs
You can also purchase Christmas embroidery design packs through our online shop including:
Project tips
To embroider the pattern stocking follow the steps below:
Draw in removable/washable pen around the stocking pattern.
Cut out a large square around the stocking pattern or pocket (whichever one you use) to ensure that the fabric fits in the embroidery hoop first.
Embroider the design onto the stocking or pocket.
Once your embroidery designs are complete cut out and follow the pattern instructions as normal.
Share your project!
Once you have completed your project we would love for you to share your photos with us! Like us on any of the social media networks below and simply hashtag #echidnacraftsy with your photo. Otherwise feel free to post to our Facebook wall with your project photo.
Don't forget you call also upload your projects to our Facebook community for others to see!
---
Leave a comment