Embroider Buddy Clara Classic Collection - Benjamin Bear 16 inch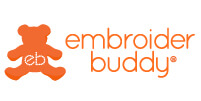 All prices are in Australian Dollars
New!
Pay in 4
4 payments of $9.99
4 payments of $9.99
Own it now, pay later

Benjamin Buddy Bear 16" lush caramel coat and sweet smile makes him hug worthy. Whether a gift for yourself or someone else, a quality stuffed animal that can be personalised is much more likely to be a friend for life, than a generic stuffed animal that anyone can own.
Each 16" (40cm) Embroider Buddy™ is created using the finest finishes, best quality zippers, softest materials and embroidered eyes.
The skins and pods (stuffing) are machine washable and both can go in a dryer. And the simple innovative design makes embroidery as easy as 1-2-3!
Unzip the Embroider Buddy's zipper and remove the pods (the front, back or base can be embroidered)

Insert the hoop front or back and embroider

Pop the pod back in, zip up and you're done!

Embroidery Buddy Packaging
To keep shipping costs down the pods have been vacuum sealed. Remove any packaging and place them in a clothes dryer for 20 mins on a gentle heat and they'll plump up beautifully.

Trade Pricing
If you run a home-based or small business you may qualify for trade pricing on this and a number of other products in our online shop.

Embroidery Buddy Catalogue
Download the Embroidery Buddies PDF catalogue featuring our current range of Embroider Buddies.

Toy Safety
The Embroider Buddy factory is ICTI (International Council of Toy Industries) certified. ICTI covers the health and safety of children throughout the world by promoting international toy safety standards. Plus, every Embroider Buddy is designed and manufactured to the Australian Standards for children's safety.

How to Care for an Embroidery Buddy
How to care for an Embroider Buddy - With the amount of love our Embroider Buddy stuffed animals get from toddlers and kids who take them everywhere from the bedroom to daycare, on holidays, road-trips and more it's inevitable that they'll need to be washed and freshened up from time to time.

Please see above for Deborah Jones' video on How to embroider an Embroider Buddy Stuffed Animal
Please note: Echidna Sewing Embroider Buddy stock may differ to that shown in the video above.
Clara Bear - Embroider Buddy

By: Kris on 3 August 2022

Love, love, love this bear (& so does everyone who receives this bear embroidered as a gift). Very versatile & feels extremely plush. K.
(5)
100% Satisfied

By: andrea on 4 September 2021

Really happy with the product thanks guys!
(5)
Graduation Bear

By: Linda on 29 October 2020

Great bears to machine embroider for a graduation gift for a couple of school graduates.
(5)