Vintage Boardwalk Embroider-along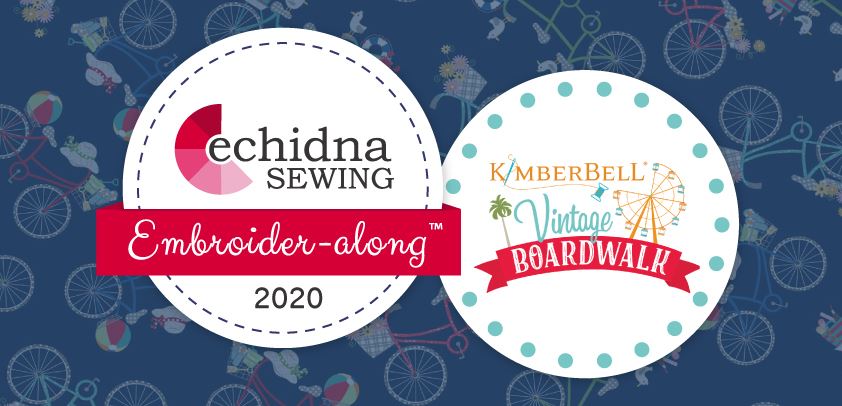 Echidna's Vintage Boardwalk Embroider-along!
Kimberbell's "Vintage Boardwalk Machine Embroidery Quilt" project will take you on a fun and exciting embroidery ride! Over 12 weeks, we will stitch and create this quilt in its entirety. There are 11 in-the-hoop applique blocks to be completed. The final weeks will be spent putting it all together and embellishing with crabs, ropes and buttons!
To participate all you need to purchase is the Vintage Boardwalk Machine Embroidery Project book from Echidna Sewing. Then you will receive an email confirming your participation and an invitation to our private Vintage Boardwalk Facebook group. Once the Embroider-along begins, each week there will be a video guiding you through the machine embroidery applique blocks and quilt construction. Throughout the Embroider-along we will share with you other small projects that can be made from these fun designs.
Anyone can join, so make sure you gather your supplies and order your book to begin the embroider-along. Please note: you will need an embroidery machine with a minimum hoop size of 5" x 7".
Next round starts November 23rd! Sign up today!

Kimberbell have been designing projects for machine embroidery and quilting since 2009. Located in Logan, Utah their passion is helping people feel the joy of creativity by providing quality and superior machine embroidery and quilting experiences. Created by Kim Christopherson, today Kimberbell Designs is a leading provider of machine embroidery and quilting products and a highly respected brand in the industry. They strive and succeed in producing fun and on-trend products and the best project instructions available.